2017 was a breakthrough year for Non-League soccer in Texas and 2018 promises more explosive growth.  At the end of the 2016 season there were 6 soccer clubs playing throughout Texas in one high level (Tier 4) USASA Adult Amateur National soccer league, the National Premier Soccer League (NPSL).  2017 started the expansion process rolling as the Premier Development League (PDL) reentered Texas.  The 2017 Texas Non-League season was capped by the extraordinary playoff run of Midland-Odessa FC, who had also recently been to a national semifinal in the PDL, that fell just short of a championship.  The team overcame numerous obstacles along the way to reach the NPSL final.  After they won the national semifinal in Detroit, they were not even sure they could field a team in the Final due to NCAA reporting regulations.  Highlights of the club season and discussion of the outstanding work of coach Matt Barnes can be found in this post:
https://txsoccerjournal.com/2017/12/15/2017-texas-soccer-player-and-coach-of-the-year-professional-high-level-amateur-college-and-youth-teams-of-the-year/
Heading into 2018, there will be 19 High level Amateur Texas teams (and counting) playing in all 3 National Leagues (NPSL, PDL and United Premier Soccer League (UPSL).
NPSL   
A map posted on an NPSL Texas team website shows the makeup of the Texas league for next year: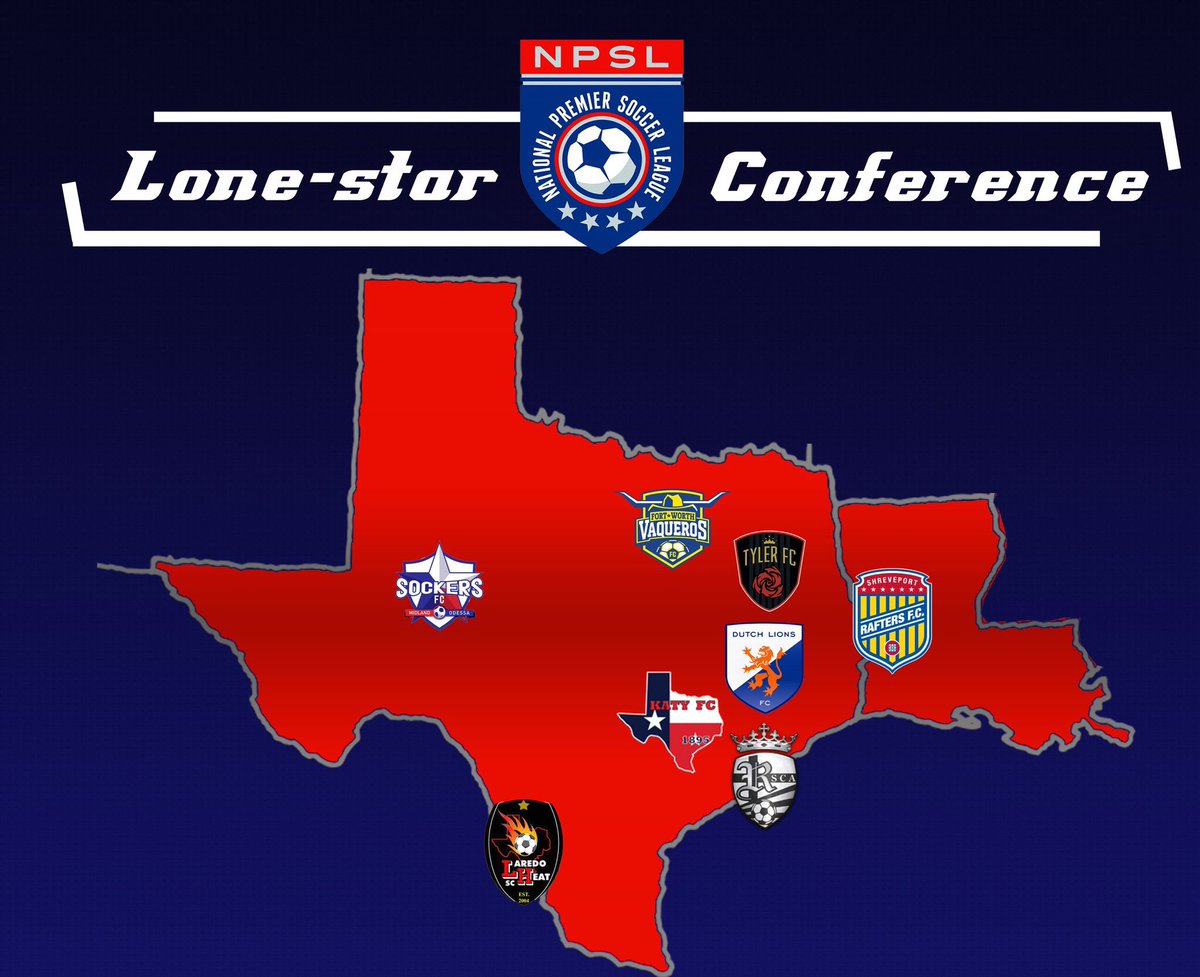 All five clubs who competed in the Lonestar Conference in 2017 will be returning:  Midland-Odessa FC, Ft. Worth Vaqueros, Houston Dutch Lions FC, Houston Regals SCA and Tyler FC.  Additionally two expansion teams, Laredo Heat (who previously played in the PDL) and Katy 1895 FC have been added.  Dallas City FC, which stepped in to replace Liverpool Warriors just before last season began, played in the Heartland Conference Division.  I have not been able to find any information about their plans for next year.
Premier Development League (PDL)
4 Texas teams began play last season in the PDL.  A PDL spokesperson has confirmed that all Texas teams that finished the season will participate in the league next year.  These are FC Cleburne, Texas United, Brazos Valley Cavalry and Houston FC.  Additionally, two expansion teams have also been added to the Texas league for 2018, AHFC FC Royals and Corpus Christi FC.  Division alignment will be announced next year.
United Premier Soccer League (UPSL)
The big news has been the expansion of the UPSL into Texas to begin play in 2018.  UPSL's business model is different, with a focus on establishing promotion and relegation in their ranks and the potential for teams to play a full year schedule.  These policies haven't been implemented in a high level amateur national adult league to this point, at least in recent memory.  The league will continue to add teams up until the season starts in the spring.  Currently 5 teams have been announced for the Texas Conference: Atletico Katy FC, Bay Area FC Oilers, FC Knights, Keene FC and Round Rock SC.  Additionally, a team from El Paso, Southwest FC, has also joined the league but will play in the Southwest Conference due to geographic and travel constraints.  Matt Kahla, the UPSL Texas Conference Manager, stated in the interview below that the league hopes to start play with 20 teams next year.
https://wordpress.com/post/txsoccerjournal.com/18638
Regional Leagues
The Gulf Coast Premier League (GCPL), a southeastern regional league which intends to expand its footprint into Texas, apparently has added a team in Kyle-Central Texas Lobos for 2018.
Last, but certainly not least, though not a National league, the Texas Premier Soccer League (TPSL) also has big ambitions involving expansion and promotion and relegation.  Highlights of my interview with the league commissioner Brendan Keyes can be found in this post:
https://txsoccerjournal.com/2017/11/16/conversation-with-brendan-keyes-commissioner-of-texas-premier-soccer-league/
All of these exciting developments, combined with other potential teams (possibility of MLS in Austin/planned USL teams from FC Dallas and El Paso/talk of a USL capable soccer stadium in Amarillo) indicate that a bright future for soccer in Texas may be on the horizon.
Photo Credit:  Dutch Lions FC Twitter (@HDLFCGamecast)
Previous posts in this series:
https://txsoccerjournal.com/2017/12/19/top-10-2017-texas-soccer-stories-8-fc-dallas-concacaf-champions-league-run/
https://txsoccerjournal.com/2017/12/18/top-10-2017-texas-soccer-stories-9-tumultuous-season-for-the-houston-dash/
https://txsoccerjournal.com/2017/12/18/top-10-2017-texas-soccer-stories-10-fc-dallas-youth-win-the-dallas-cup-u19-cup/
https://txsoccerjournal.com/2017/12/15/key-texas-soccer-stories-of-2017/