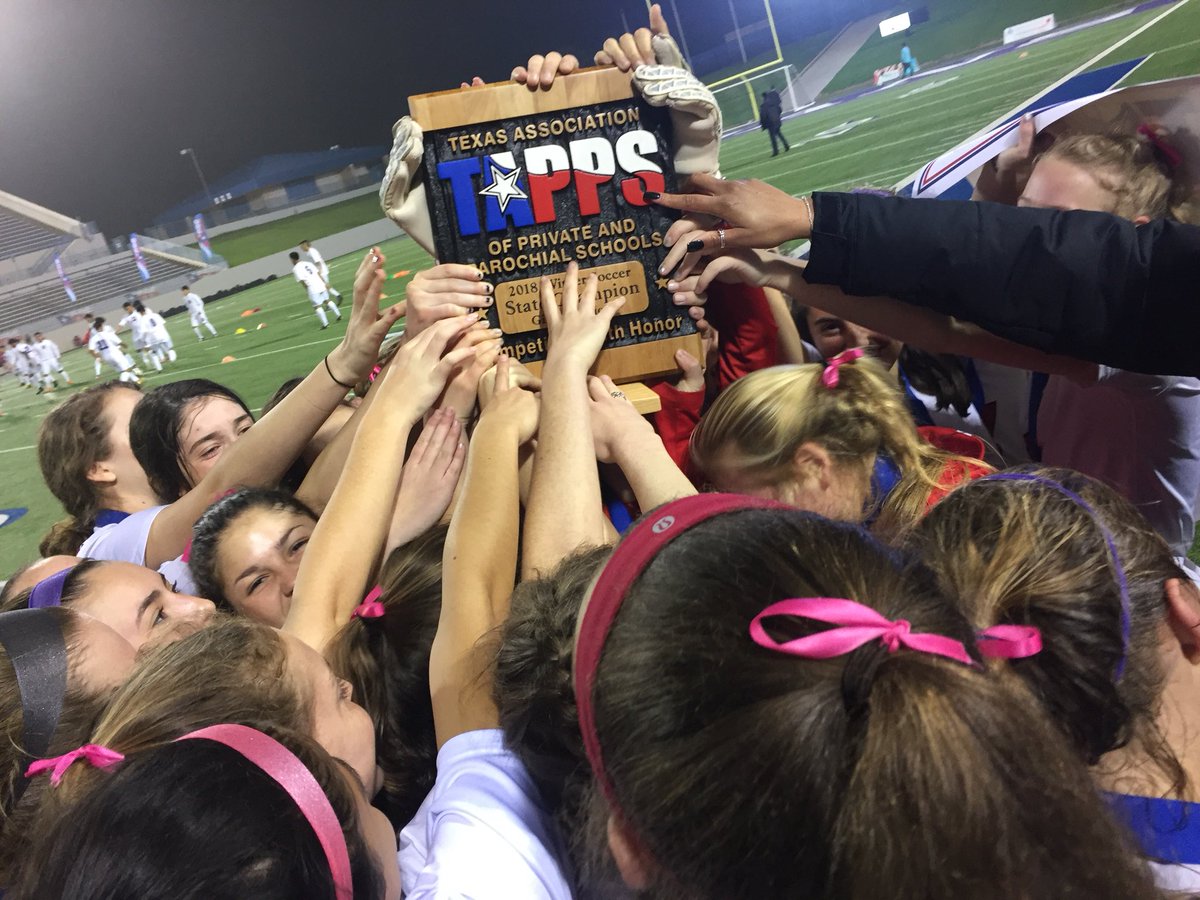 Ursuline Academy celebrates another TAPPS Division I Championship
The Texas Association of Private and Parochial Schools (TAPPS) is an organization that organizes statewide academic, athletic and fine arts programs for private and parochial high schools in Texas.  Among the activities TAPPS coordinates are annual soccer playoffs that lead to both Boys and Girls State Champions.
Not all Texas private and parochial schools play in TAPPS.  A small number of schools play in the Southwest Preperatory Conference (SPC), a league that includes schools from Oklahoma.  Dallas Jesuit and Houston Strake Jesuit also play in the UIL.
Soccer in the SPC is played in what is classified as the winter season that runs earlier than the University Interscholastic League (UIL) public high school season.  This also applies to TAPPS, though there is a small set of schools that plays Boys soccer in the fall.
Much like the UIL on a smaller scale, the TAPPS schools are organized into districts that participate at the Division I, II or III level, assigned based on student enrollment.  District regular season play typically begins in November each year and runs until a state champion is determined in late February.
The 2017-18 playoffs TAPPS began a few weeks ago at the home stadium of one of the participants.  Semifinals were held at neutral sites this week.  The playoffs come to a conclusion this weekend in the State Finals at Waco ISD Stadium.  Winners listed in bold.
TAPPS Winter Soccer
Boys 
Division I
San Antonio Central Catholic-1   Houston St. Thomas-0   Note:  SA Central Catholic back-to-back championships.
Division II
Houston Lutheran South-0   Garland Brighter Horizons-0 (Houston Lutheran 4-2 on penalties)
Division III
Dallas Covenant-2   Katy British International (19-2-1)-1
Girls
Division I
Dallas Ursuline-2   Plano John Paul II-0   Note:  Ursuline has won 27 of the last 28 championships
Division II
Tyler Grace Community–4 vs. San Antonio Christian-1   Note:  Lexye Price scored a hat trick for Grace.  Second championship in three years.
Division III
Kerrville Our Lady of the Hills–5   McKinney Christian-0
SPC Winter Soccer Championships
A tournament format played between February 15-17 in Houston
Boys
Houston Episcopal-2  Oklahoma City Casady-0
Girls
Houston Kinkaid-3  Houston St. John's-2
Photo Credit:  Susan Noonan-Ursuline Academy AD Twitter