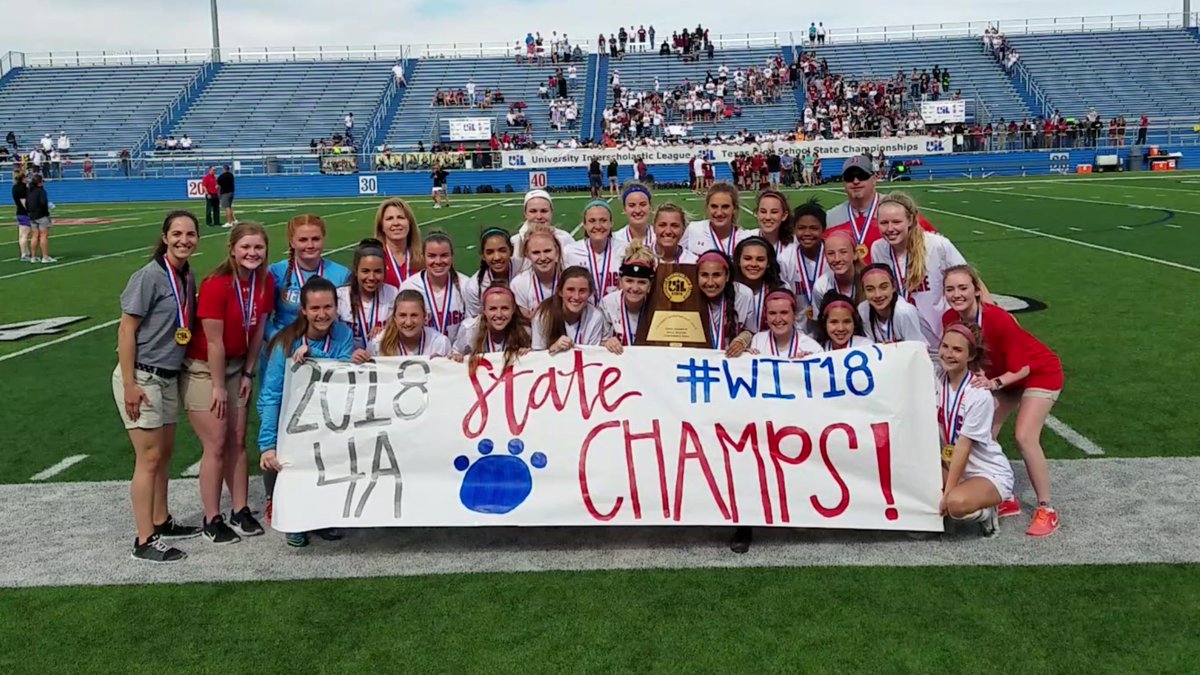 Midlothian Heritage 2018 Girls 4A State Soccer Champions (@MidloHeritage Twitter)
The 2018 Texas University Interscholastic League (UIL) (Public High School) Playoffs were completed on Saturday evening at Birkelbach Field in Georgetown when the final of six state champions was crowned.  This completes the seasons for all Texas high school soccer leagues.  The Texas Private School championships were held in February and results can be found in this link:
https://txsoccerjournal.com/2018/02/25/tapps-and-spc-soccer-championship-results/
Included after the school name is the overall season record and the MAXPREPS Texas State Ranking.
Girls 4A Semifinals-Wednesday
Midlothian Heritage (27-3-1) (115) 1  Liberty Hill (27-2-0) (110) 1
2-1 Final-Midlothian Heritage advances 3-1 on penalties.
Jasper (17-1-0) (9) 1  Kilgore (23-5-2) (166) 0
FINAL THURSDAY: Midlothian Heritage 

2

  Jasper 1 

(2 OT)
NOTES:  (1) First championship for Heritage since the school opened in 2014  (2) Second trip to State finals for Jasper…lost in 2016
Boys 4A Semifinals-Wednesday
San Elizario (20-5-0)  (124) 3   Madisonville (25-1-2) (113) 0
Palestine (34-0-0) (13) 2   Progreso (23-7-2) (234) 1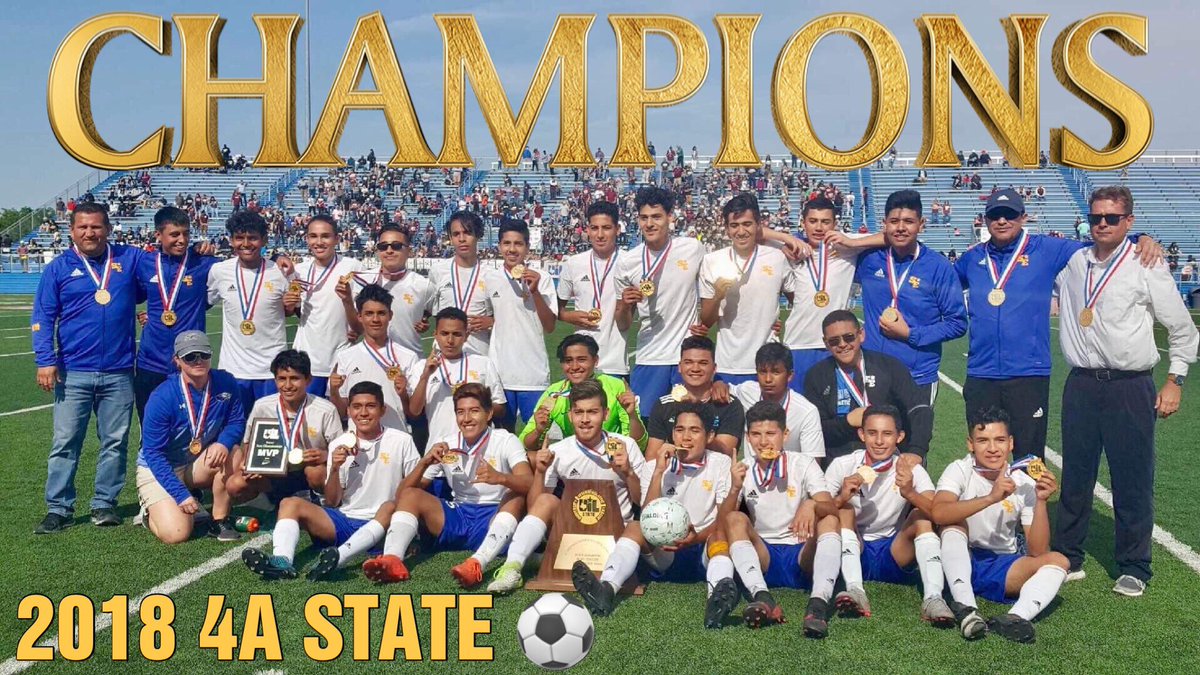 San Elizario High School 2018 Boys 4A State Soccer Champions (San Elizario Soccer Twitter @msappenfiel)
FINAL FRIDAY: San Elizario 

1

  Palestine 

0
NOTES:  (1) Second championship for San Elizario-a small El Paso area border city that was only just incorporated in 2013 (2) Palestine finished the season 35-1.  This was the second trip to the finals in three years-they won the title in 2016
Girls 5A Semifinals-Thursday
Humble Kingwood Park (24-2-1) (101) 0   Frisco Wakeland (22-1-4) (13) 3
Grapevine (27-1-1) (29) 4   San Antonio Alamo Heights (20-7-1) (85) 3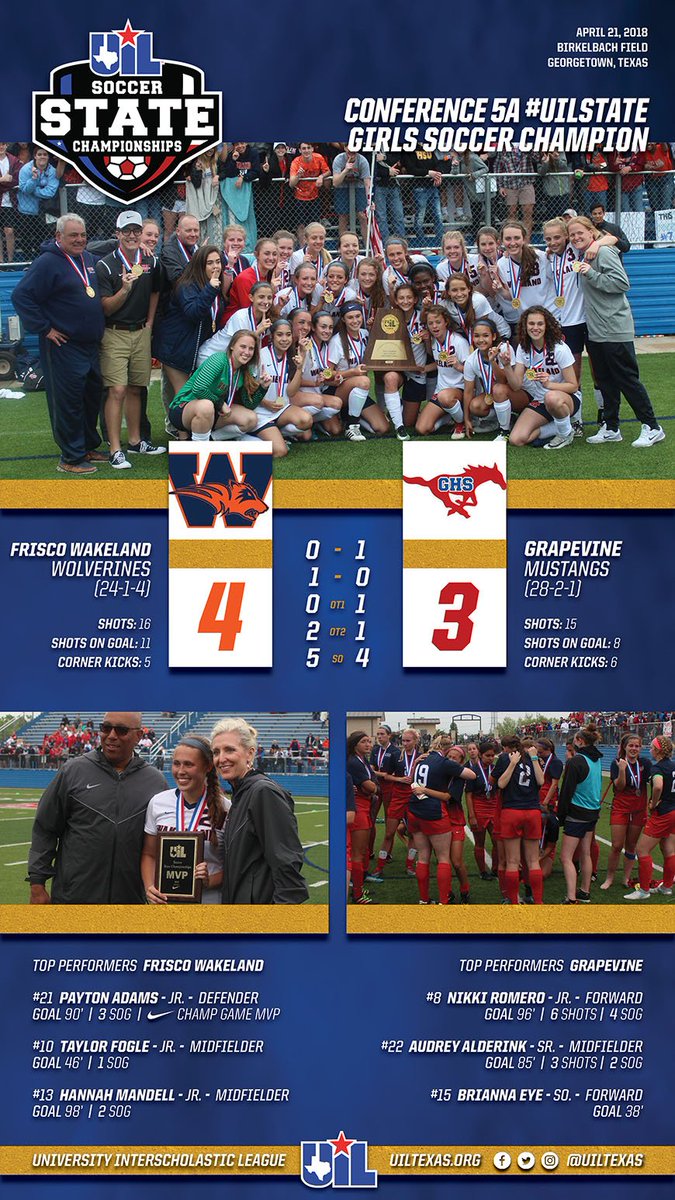 Frisco Wakeland High School 2018 Girls 5A Texas State Soccer Champion (Texas UIL Twitter @uiltexas)
FINAL SATURDAY: Grapevine

3  

Frisco Wakeland 

3 Frisco wins 4-3 (5-4 on penalties)
Notes:  (1) 4 goals scored in overtime-2 by each team. (2) Game tying goal scored by Wakeland's Hannah Mandell 90 seconds before end of second overtime. (3) This was second time in three years that Grapevine lost the UIL Championship game on penalties. (4) Wakeland Girl's second State title-first since 2011
Boys 5A Semifinals-Thursday
Aledo (24-0-4) (31) 1   Houston Wisdom (21-2-2) (150) 0
Pharr Valley View (31-0-0) (2) 1 Frisco Wakeland (17-4-6) (26) 3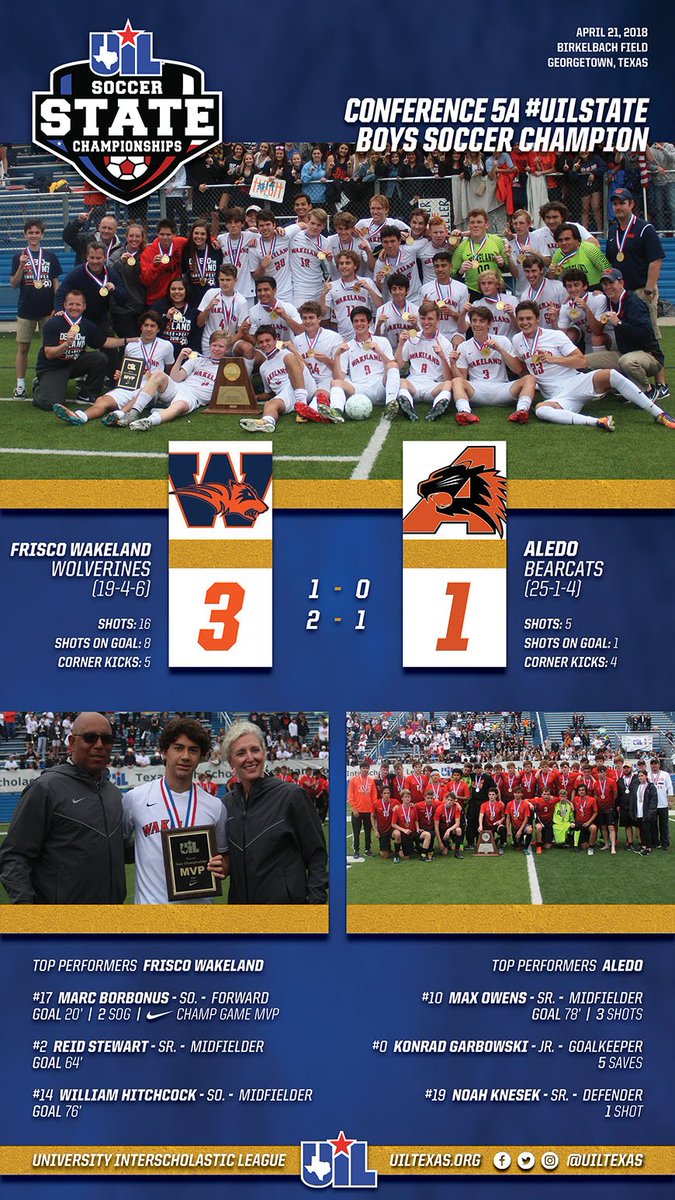 Frisco Wakeland 2018 Boys 5A State Soccer Champions (UIL Texas Twitter @uiltexas)
Final Saturday:  Frisco Wakeland 

3

  Aledo

1
Notes:  (1)  Second consecutive State title for Wakeland Boys and the third in their history (2) First time both Boys and Girls Champions came from same school since 1985 when Richardson achieved this feat (3) Wakeland finished in 4th place in District 13-5A regular season
Girls 6A Semifinals-Friday
Houston Memorial (26-0-1) (47) 2 McAllen (26-3-1) (46) 0
Katy Cinco Ranch (25-0-2) (3) 3 vs. Lewisville Marcus (22-3-1) (2) 3
4-3 Final-Lewisville Marcus advances 4-3 on penalties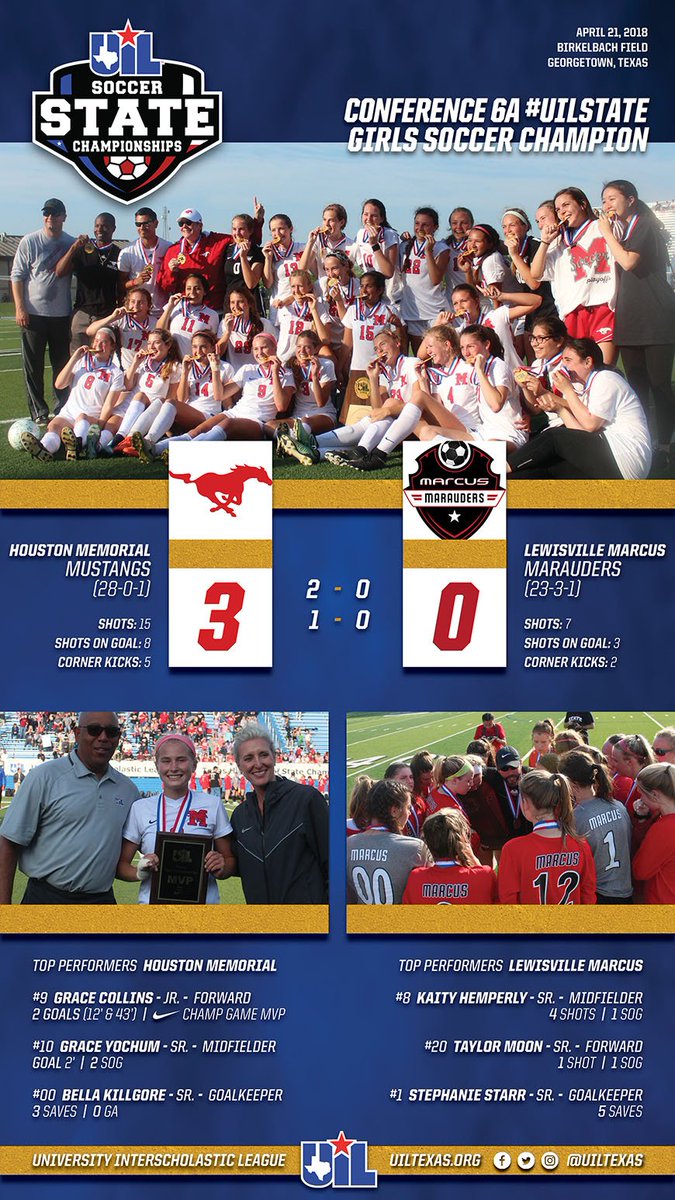 Houston Memorial High School 2018 State 6A Girls Soccer Champions (Texas UIL Twitter @uiltexas)
FINAL SATURDAY:  Houston Memorial 

3

Lewisville Marcus 

0
NOTES:  (1) Houston Memorial is currently the number 4 rated Girls High School Soccer program nationally by Top Drawer Soccer (2) 2 goals from Junior Forward Grace Collins led to her being named Championship game MVP
Boys 6A Semifinals-Friday
Alief Elsik (20-0-2) (8) 3 Irving (15-5-5) (128) 1
Coppell (22-2-3) (7) 1 San Antonio Reagan (18-1-7) (24) 3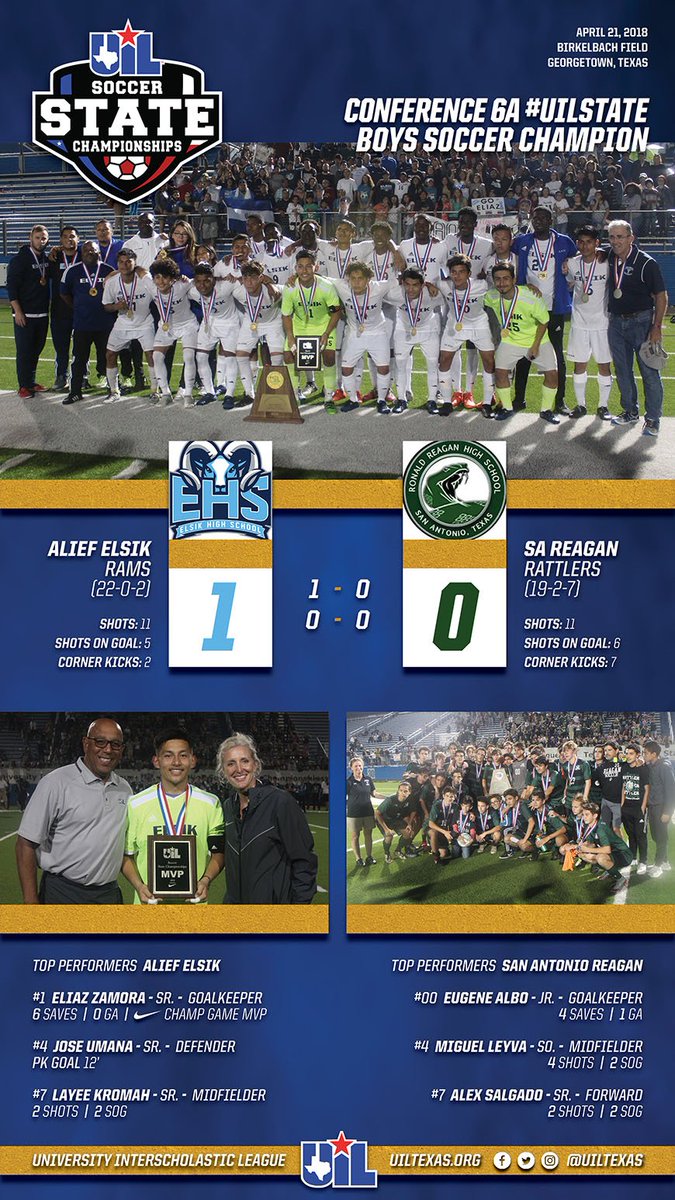 Alief Elsik High School 2018 State 6A Boys Soccer Champions (Texas UIL Twitter @uiltexas)
FINAL SATURDAY: Alief Elsik 

1

 San Antonio Reagan 

0
NOTES:  (1) Alief Elsik is currently the number 2 rated Boys High School Soccer program nationally by Top Drawer Soccer (2) Game winner on a 13th minute penalty by Jose Umana