2nd post:  Before I roll out my picks for the Top-10 Texas soccer stories from 2017 next week, I  will share a few of Texas Soccer Journal's favorites from the past year over the next few days.
Favorite Texas soccer media of 2017:
Favorite photo:
The stoppage-time game winning goal from Detroit City FC's Tyrone Mondi to send their side into the National Premier Soccer League (NPSL) national semifinal round against Midland-Odessa FC Sockers. 
This stunning photograph from Jon DeBoer (https://twitter.com/jondeboerphoto) is only indirectly related to a Texas team or match, but it was the best soccer photo I saw all year and wanted to recognize this quality again (July 29):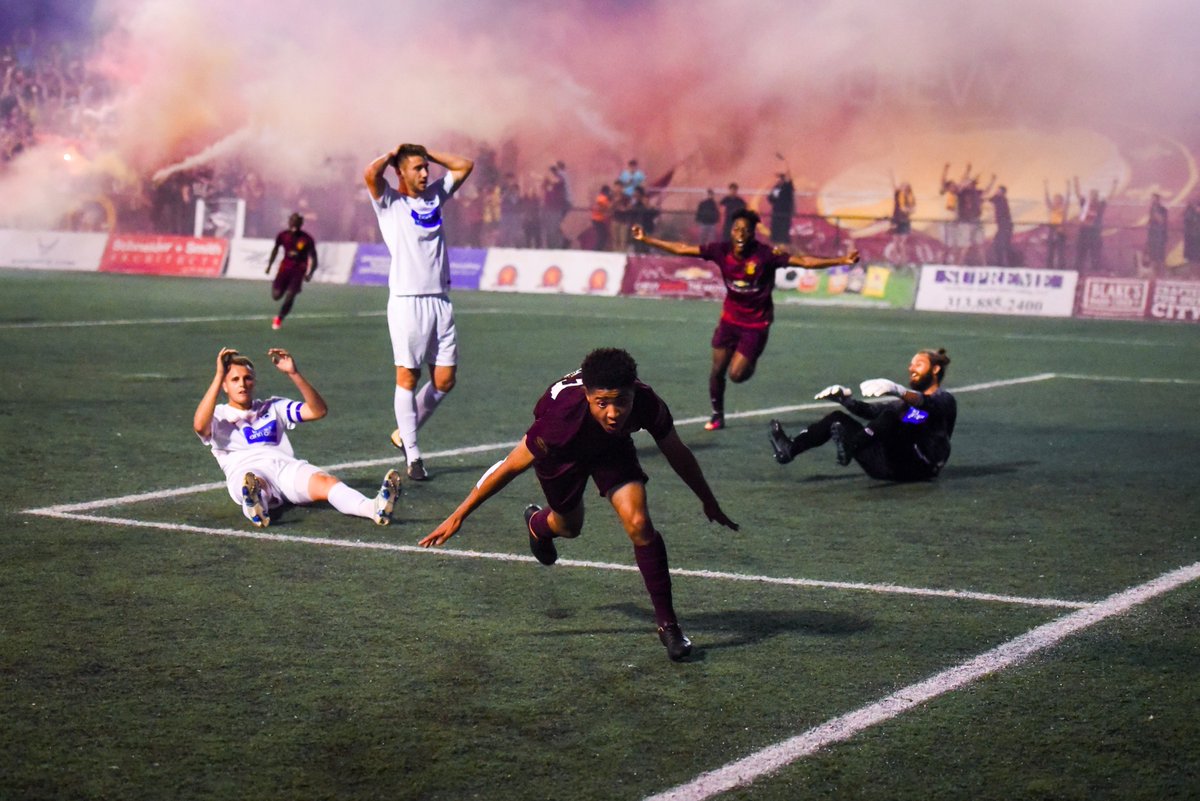 Favorite story video:
MLSsoccer.com and former Dynamo forward Calen Carr's video (part of The Movement series) on soccer in the Rio Grande Valley and the RGVFC/Houston Dynamo partnership (June 21):
Favorite Texas soccer website:
SB Nation's Big D Soccer  (https://www.bigdsoccer.com/)
There are a lot of good websites, in addition to the large city newspapers and team sites, that cover Texas soccer, so this was a hard choice.  My 2017 favorite though is SB Nation's Big D Soccer.  Breaking news, one-stop Daily Soccer Links to FC Dallas and other key MLS stories, detailed roster analysis and links to their 19th minute podcast are examples of the high level content provided on the site.  The stories they cover are wide ranging.  Two that caught my eye were the provocative December 3rd article from Drew Epperley and Jason Poon suggesting that it was time for FCD to move on from midfielder Mauro Diaz (I disagree) and the February 23rd article from El Chico Carmona that provided a detailed breakdown of Arabe Unido prior to the CCL quarterfinal matchup with FC Dallas.  This type of analysis on a Central American opponent is something that is rarely seen in United States english language soccer media.  The staff does a great overall job in providing informative content, both during the MLS season and offseason.
Other favorite sites:
SB Nation's Dynamo Theory (https://www.dynamotheory.com/).  Special note to Carson Merk's coverage of Rio Grande Valley FC and Harrison Hamm's deep analytical posts.
DFW's 3rd Degree (https://sportsday.dallasnews.com/soccer).  Standing out is their reporting on DFW soccer history, the recent 20 Years series posts on logos, FCD homegrown players, Buzz Carrick's practice highlight stories and especially their article proposing a 20-year FC Dallas (Dallas Burn) best XI.
https://sportsday.dallasnews.com/soccer/soccer/2017/11/24/20-years-fc-dallas-time-best-xi
Favorite Texas Soccer articles:
There are probably dozens of good articles that I could point out, but here are three that caught my attention at the time:
Will Parchman, who has subsequently left Top Drawer Soccer and cut back his involvement in soccer coverage (big loss), wrote this article about the unique soccer culture and its untapped potential in the Rio Grande Valley.  (February 7) 
Note: this was one of a few excellent articles he wrote about soccer in Texas, one of which included this brilliant paragraph: 
"The soccer infrastructure in Texas is an unwieldy beast consuming structural plans like the Cookie Monster dropped into a Mrs. Fields convention. The state is roughly the size of France, a country with decades of infrastructural work set into firm ground with the undergirding strength of titanium beams. Texas… does not have that."
http://www.topdrawersoccer.com/the91stminute/2017/02/soccer-flows-like-a-river-in-the-rio-grande-valley/
Tom Dart, who lives in Houston, wrote an article with the provocative title "Does MLS have a Texas problem" ahead of a Texas Derby match.  Certainly provides food for thought, especially with the proposed move of a third team to Austin.  (May 26)
Others seem to wonder the same thing:
https://www.theguardian.com/football/2017/may/26/mls-texas-derby-houston-dynamo-fc-dallas
The Austin Supporters group wrote a series of articles describing possible scenarios that could bring MLS to Austin, TX early this year.  This post was eerily prescient in describing the then hypothetical relocation of the Columbus Crew to Austin.  This article came from a combination of "hearing some things", good research and connecting a lot of dots.  (February 21)
Finally, a special shout-out to The Nutmeg News (https://www.thenutmegnews.com/) who have written some of the most entertaining "news" on the soccer world all year.  Example here:
https://www.thenutmegnews.com/current/2017/10/26/chicago-fire-to-move-to-austin-texas
Favorite Texas Soccer radio show/podcast:
Soccer Matters (Glenn Davis-ESPN 97.5) (https://www.facebook.com/SoccerMatters/)
Before there was professional soccer in South Texas (at least in this century) Glenn Davis hosted a radio show in Houston that kept the game alive for years in the Gulf Coast region.  The show is stronger now than it has ever been and gets better every week. This favorite designation should probably be retired and a new one started, because I don't know how anybody can top this show as long as Glenn remains at the helm.  His call-in show focuses on the Houston Dynamo and interviews with the staff and players, but Glenn also interviews national guests each week and covers a wide range of worldwide soccer topics.  Soccer Matters also coordinates a yearly charity event throughout the Houston region that raises money to help fight children's cancer.  This radio show is a true South Texas institution.
Strong competition:
Soccer Today  (Steve Davis-103.3 FM) (http://soccer-today.org/)
If there is a North Texas equivalent to Glenn Davis, it would be Steve Davis.  Currently an an analyst for FC Dallas Radio and TV and a national soccer journalist for FourFourTwo and other media, Steve has been covering MLS since its beginning and has been one of my favorite writers for years.  His show has more of a national focus than Soccer Matters, but presents current and relevant stories each week from the Dallas area.  Recently his coverage of the US Soccer President election has been superb.
Emerging podcasts I listen to regularly:
Texas Soccer Radio (Kyle Mahnke/Larry Leathers-San Antonio-podcast only) (https://pitchblack.podiant.co/)  Formerly Pitch Black News.  Recent pivot to expand coverage to other San Antonio teams and good source of USL information.
Dallas Soccer Show (Dustin Nation/Tristan Vick-DFW-podcast only) (https://dallassoccershow.com/  Discovered a few months ago and seems to be a new  show based on the archived episodes.  Excellent interviews and a go to site for FC Dallas news.
The Throw In (Kit McConnico-host-104.9-Austin/podcast) (http://hornfm.com/on-air/the-throw-in/)   Kept the ATX Soccer flame alive before all of the recent intense activity.  Now has a lot more to talk about!
Link to first post in this series:
https://txsoccerjournal.com/2017/12/12/favorite-2017-texas-goal-s-save-and-comeback-of-the-year/