San Antonio soccer fans had the opportunity to watch Pele, arguably still the most famous soccer player globally in 1976 when he and the New York Cosmos arrived to play the San Antonio Thunder in an NASL exhibition match on March 31st to kick off their second season.
Pele's Impact on Soccer in the United States
It is difficult to overestimate the impact Pele had on soccer in the United States when he joined the Cosmos in the middle of the 1975 season. The NASL launched in 1968 when two separate leagues, who began play the previous year, overcame their differences and merged to form the new organization. Achieving professional soccer relevance in the US was difficult in those days. The NASL almost folded after the first year and grew slowly for the next five years before Pele's arrival created a buzz that turbocharged a few years of rapid growth in the league. NASL's leadership knew that Pele was the only soccer player on the planet who could capture the US and Canadian general sports fan's imagination. In many respects, his arrival in the mid-'70s created an even more significant buzz around the sport than David Beckham did when joining MLS in 2007. The NASL was unable to secure a steady TV contract at the time. Pele's arrival created enough interest that an internationally televised exhibition match against the Dallas Tornado was scheduled in June 1975 to kick-off his career here.
San Antonio Game Part of a NY Cosmos Preseason Trip
Pele was by far the most league's expensive signing to that point. His seven-figure salary was jointly financed by the league owners, meaning that all clubs effectively owned part of his contract. Despite this joint investment, the Cosmos received a $25,000 appearance fee to come to San Antonio. This sum may not seem like a lot of money than fees today, but it was significant then since the top ticket price for this match was $5.00. In February, the San Antonio Express reported enough interest in Pele's appearance that Mexicana Airlines would be flying charters to San Antonio from Mexico City and Monterrey for this game.
Before the 1976 season, Pele and the Cosmos went on a six-match preseason trip to generate interest throughout the league. San Antonio was the third stop on this tour, three days after Pele was the featured attraction for the opening of the renovated Ownby Stadium in Dallas. On March 28th, New York beat the Dallas Tornado 1-0 on what press accounts described as a "picture-perfect" Pele free-kick.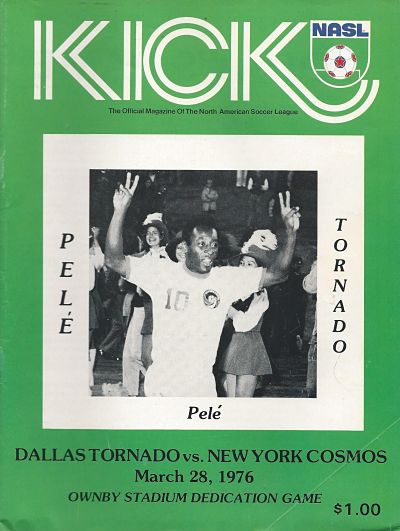 Pele's Visit Put Soccer on the Map in San Antonio
Taking full advantage of the opportunity to showcase Pele, the Thunder hosted multiple youth clinics, including one he attended at a local school, a press conference, and a reception at the Gunter Hotel in downtown San Antonio where the Cosmos were staying.
In an interview this week, Thunder head coach Don Batie told an amusing story involving the clinic Pele attended. Pele had picture cards he would hand out to youth he encountered at such events. After this clinic, Batie and Thunder midfielder Renato Costa brought their young boys to meet Pele. He had run out of cards to give the kids and was very apologetic. Batie forgot about this until a clueless security guard approached him in the Thunder locker room before the game and told him that "somebody named Pele" was at the door and wanted to see him. Sure enough, Pele was at the door in uniform with a signed poster (below) to make up for the lack of a giveaway at the clinic and later took a picture with the two boys.
In a separate interview this week, Thunder defender Mark Stahl told me this story was consistent with his experiences during an exhibition series he played against Pele later that year. Stahl was a guest player with the Dallas Tornado, who traveled with the Cosmos to play promotional matches in three potential NASL expansion markets. The limited-time he spent directly with Pele in these travels left a positive impression. "Every interaction I had and my observations of him were that he was a class act, very humble and modest and extremely accessible to people."
Pele's press conference also marked the introduction of Thunder defender Bobby Moore who had just arrived from England. Moore, who was on loan from Fulham, still had responsibilities for his club, so he flew in for a few days to play against the Cosmos before returning to England. Moore, who at the time was the most capped English international and captained the 1966 World Cup winner, had played Pele in the past, most famously at the 1970 Mexico World Cup in Guadalajara. This press conference was a love-in as Pele and Moore took turns gushing effusively about the other's excellence. In Pele's case, this praise was not just for the press that day. After the 1970 World Cup game Pele said about Moore, "He was one of the best players I've ever known. The best defender." They also recreated the famous photo below captured after the World Cup match on the field immediately before the Thunder game. Batie mentioned this re-creation in our interview and noted that it was much friendlier than the initial image's perception. He said that Bobby Moore's memories of this encounter reflected this. "[The original photo] wasn't a very affectionate time, actually what Pele was doing was taking out part of Bobby's cheek with his fingernails."
According to coach Batie, the clinics exhausted Pele, and he initially did not show at the evening reception.. Players, friends of the owner Ward Lay, and a local A-list were in attendance. A party of Brazilian players from the Thunder and Cosmos went to Pele's room to talk through the door and attempt to change his mind. He eventually came down, and both he and Bobby Moore made a few comments. Pele then mingled for a short period before bowing out for the evening. When it appeared Pele would be a no-show, Batie said, in an attempt to salvage the evening, Bobby Moore approached him and suggested that, since he was internationally famous and already there, Batie should "go with that" and introduce him to the crowd instead. Batie noted that he dismissed this idea at the time and, to this day, believes it was a mistake. "Even I didn't have brains enough to do that at that time. I kind of blew that off and went ahead and did what we were doing." Batie continued, "I look back on it now and it is one of my biggest regrets. I should have said you are right Bobby; I should have gone to the crowd right then and said here is our star." Batie noted that he did eventually introduce Moore to the crowd later.
The Largest Crowd for a Thunder Match Came to See Pele
An estimated crowd of 14,800 showed up on a cold night at Alamo Stadium to watch the match. Though the attendance was well short of capacity, it turned out to be twice the size of any non-fireworks crowd at a Thunder game in the two seasons they played in San Antonio. This match was the first time the Thunder played at Alamo Stadium since their announced move from North East Stadium, where they played in 1975. They now could sell beer at their games for the first time. Beer sales were not possible when they explored playing at the school district-owned stadium before the first season, but this barrier was broken down by the World Football League's arrival the previous year. Though that team only lasted one season, the ability to sell beer at the stadium remained.
A pipe organ supplied by the local Shriners and mariachi band from a local restaurant served as pregame entertainment. After Pele was introduced to the crowd and received a rousing ovation, he was surrounded by what Express columnist Dan Cook described as "everyone within a three-mile area with a flash camera. Pele was mobbed by amateurs who elbowed each other like professional photographers." Cook added that a loud PA announcer and four policemen finally restored order, and Pele was able to continue a brief warm-up session.
New Thunder Players Lead the Team to Victory
The Thunder won the match 1-0 on a 76th-minute goal from Canadian International forward Victor Kodelja, making his Thunder debut. The play started when Bobby Moore found midfielder Jim Henry open on the right side near the end line. Henry sent the ball to an unmarked Kodelja, who slammed it to the net's left side from 15 yards out past the sprawling Cosmos goalkeeper. Kodelja gave Henry and Moore credit for the goal after the match "Henry made a really nice run down the right side. I've got to really give credit to Jim and Bobby. It was a heads-up play on both their parts. They really made that play happen."
The unquestioned star of the night, however, was rookie Thunder goalkeeper Pete Mannos. San Antonio's top pick from the previous NASL college draft was not even supposed to play. The Thunder had recruited Scottish International goalkeeper Bobby Clark. Like Moore, he was on loan and did not arrive in time for the match due to responsibilities to Aberdeen, his Scotland club. Mannos made two superb saves to keep the Cosmos off the board. The first save came in the 60th minute when Mannos stopped a cannon shot from Cosmos forward Tony Field from 15 yards out. In the Express after the game, Mannos said, "I never saw a ball hit like that. I got my right hand out and punched it out, but I was glad to see it go over the end line." The second save was the one that caught the crowd's attention. In a situation similar to the free-kick goal that Pele scored to win in Dallas, Mannos was able to stretch far to his left to stop a Pele shot hit low to the back post that went through the Thunder wall.
Pele only spent a few minutes at the stadium after the match. In a brief interview, he complimented Mannos for the save, then traded jerseys with Thunder defender Carlos Rodriguez and was quickly escorted to a waiting van to escape the mob that wanted to meet him. Rodriguez later gave the jersey to Batie, who shared the image below.
Don Batie remembers how well the Thunder played that night. "From back to front, we totally dominated that game. We were much the better team on the field, I thought in that game." Pele had a below-par match. Understandably, given the constant pressure he dealt with as the face of the league. He was also 35 years old, and this match was one of the absurd numbers of exhibition games he played in his career with both Santos and the Cosmos. Other than the free-kick, there was little of the technical magic he usually produced, like he showed a couple of times in the Dallas game a few days earlier. Dan Cook commented in his column, "But to be honest, he didn't look any better-or worse-than a dozen other guys on the field. He continued, "Father time has a way of sapping speed, stamina and skill and after he becomes a constant companion, to the mighty ones great deeds are not produced twice a week on signal."
Cook, an iconic local sports columnist and sportscaster for KENS-TV, perfectly summed up why it did not matter. "But when we are treated to the opportunity of seeing a legend, we shouldn't expect legendary performances. It should be just enough just to see Pele doing his thing, the thing he did better than any other man for many years-and still does best once in awhile."
Stahl agreed with Cook and observed, throughout his NASL career, he took away one overreaching memory of the numerous "slightly past their prime" international legends he played. "Cook is absolutely on the money [with how Pele's performance should be viewed]. But I saw this with other players too. They were not in their prime, but every once in a while, in the middle of the game, they would pull something out that no one else could do. Those moments of brilliance, they happened, but they simply didn't happen with the consistency or frequency that they did in their prime."
Even then, Pele still had a lot left in the tank when it mattered. He played two more NASL seasons for the Cosmos and led the team to the title in 1977 after the Cosmos added several players capable of playing at his level. Except for a 1986 promotional appearance in Houston when he was in his mid-40's, this exhibition match against the Thunder was the last time Pele would appear in Texas.
This Event Did Not Translate into Future Success
Unfortunately, the developing soccer culture in San Antonio failed to recognize the opportunity to see a legend. In retrospect, Pele's inability to sell out an appearance, which filled stadiums elsewhere, was another warning sign that professional soccer was not meant to be in San Antonio in the mid-1970s. The soccer culture in Texas is quite different now. I clearly remember the electric atmosphere produced by Lionel Messi's appearance at Houston's NRG Stadium for the 2016 Copa America Centenario semifinal against the US Men's National Team. An appearance by Pele or an equivalent player with star power in 2020 San Antonio would undoubtedly produce a completely different reaction today than it did in 1976.
Unfortunately, occasional star-driven events do not translate into long-term success for professional soccer in this country. This visit by Pele was another example of this reality. However, at the time, it seemed to create a level of excitement, that has only been duplicated since then when the Mexican National team makes infrequent San Antonio appearances.
Sources for this article include: (1) San Antonio Express newspaper archives (sourced online from Newspapers.com) (2) Excellent reference material and images courtesy of Dave Morrison at http://www.nasljerseys.com (3) The Best of Dan Cook (2001) pages 137-39 (4) Don Batie personal collection