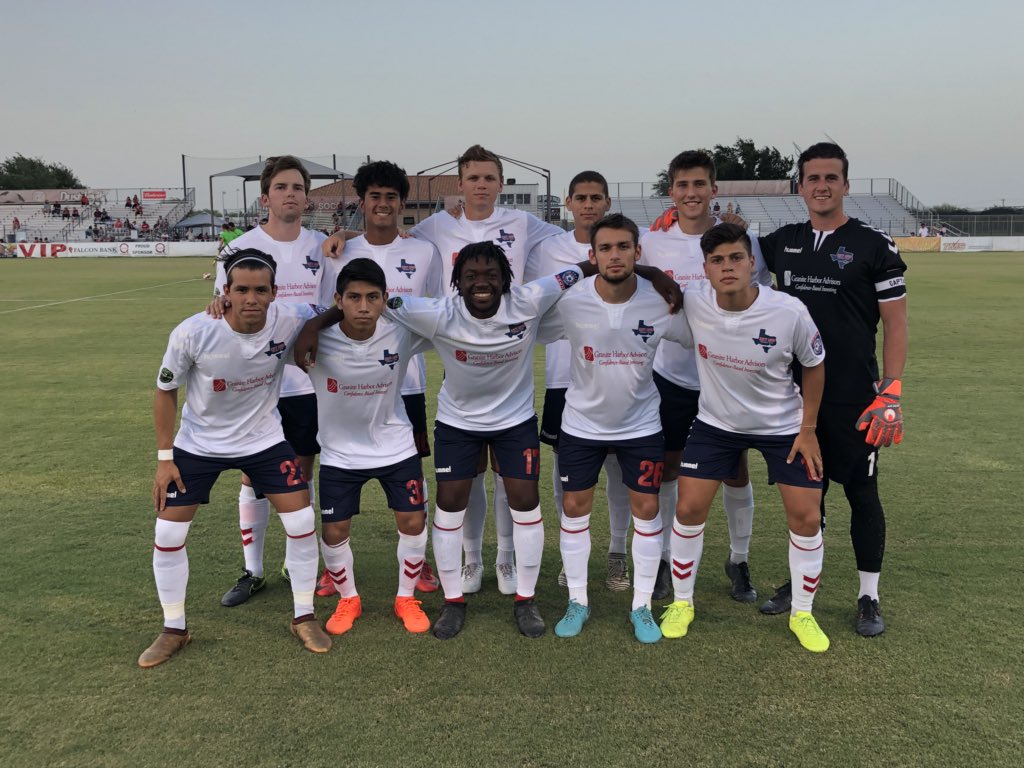 Katy 1895 FC Pregame Lineup (Image Credit:  Travis Aday)
Correspondent:  Travis Aday-Katy 1895 FC Intern
Travis Aday is a senior Communications major at University of Mary Hardin-Baylor in Belton.  He is a member of the soccer team there and is spending his summer interning with NPSL's Katy 1895 FC Soccer Club….and also is a goalkeeper on the team.  Texas Soccer Journal has been proud to publish his posts for the 2018 season.
LAREDO, Texas – Katy 1895 FC took on Laredo Heat SC Saturday night at Texas A&M International University soccer complex at 8:15 p.m. It was the final match on the road for Katy in the regular season. Laredo came away victorious, winning 6-0 clinching the Lonestar Conference regular season title and improving to 9-0-0 while Katy fell to 3-0-6.
The match was very tightly contested from the start with Katy enjoying their fair share of good chances and spells of possession in the first half. Laredo only struck once in the first half with the lone goal coming in the tenth minute when a counter attack left Katy caught numbers down in the back and Laredo easily finished. They held that lead strong until halftime as Katy pushed and kept working to find a goal. Things looked bright for Katy as they were having chances and the team felt confident heading into the second half and Katy fought well until the 60th minute. The floodgates opened and five second half goals by the way of substitutes sealed the victory for Laredo as they walked away with the regular season title. Much like most of the season, counter attacks led to most of the second half goals. In the end, Laredo showed their true quality and dominated the match
It was a match that left a lot to be desired for Katy and was a bump in the road for a club that is still fighting for a playoff spot. Katy goes into their last match Tuesday needing a win to clinch a playoff spot.
After the match, Katy 1895 FC Head Coach Jimmy Krueger discussed the challenge posed by an undefeated Laredo Heat side.  "It was a difficult game against a very talented side. We stuck with them for over 50 minutes. But, eventually  they were able to put together some quality goals. We will have to rebound relatively quick as we are playing on Tuesday to extend our season."
Katy 1895 FC featured 16 players in the match with starters being Harrison Veith, Alan Albornoz, Tyler Sivadon, Jordan Bates, Sydney Tume, Josh Moore, Luka Lazarevic, Jordi Cobo, Abdullah Mirza, Roger Lopez and Tutu Hernandez. Making appearances off the bench were David Moreno, Nick Coburn, Josmim Cai, Travis Aday and Tristan Duffy.
Katy 1895 FC finishes the regular season at home on Tuesday evening against the Houston Dutch Lions at St. John XXIII College Preparatory School at 7:30 p.m.