Highlights of Week 3 were a win by Texas United over OKC Energy FC U23, something that no Texas PDL team was able to accomplish in 2017, and the first ever home victory for Corpus Christi FC.  AHFC Royals also won their second consecutive match to open the inaugural season.  Week 4 has Brazos Valley opening their season, AHFC taking the undefeated record to Oklahoma City and undefeated Texas United's trip to Corpus Christi.
Week 3 Recap:
Thursday, May 17:
AHFC Royals-2     Houston FC-1     Tully Stadium, Houston
AHFC Royals continued their strong start to the inaugural PDL season by knocking off Houston FC 2-1 at home.  Forward Johannes Oeksnevad opened the scoring in the first half.  Cristian McArthur leveled for Houston FC in the second half off of a corner kick.  An 82nd minute game winner from substitute midfielder Luis Sanchez (from San Antonio's St. Mary's University) ultimately led to the final 2-1 result, the second win of the season for the Royals and second loss for Houston FC.
This is how to integrate your youth and PDL clubs:
Texas United-5    FC Cleburne-0     AirHogs Stadium, Grande Prairie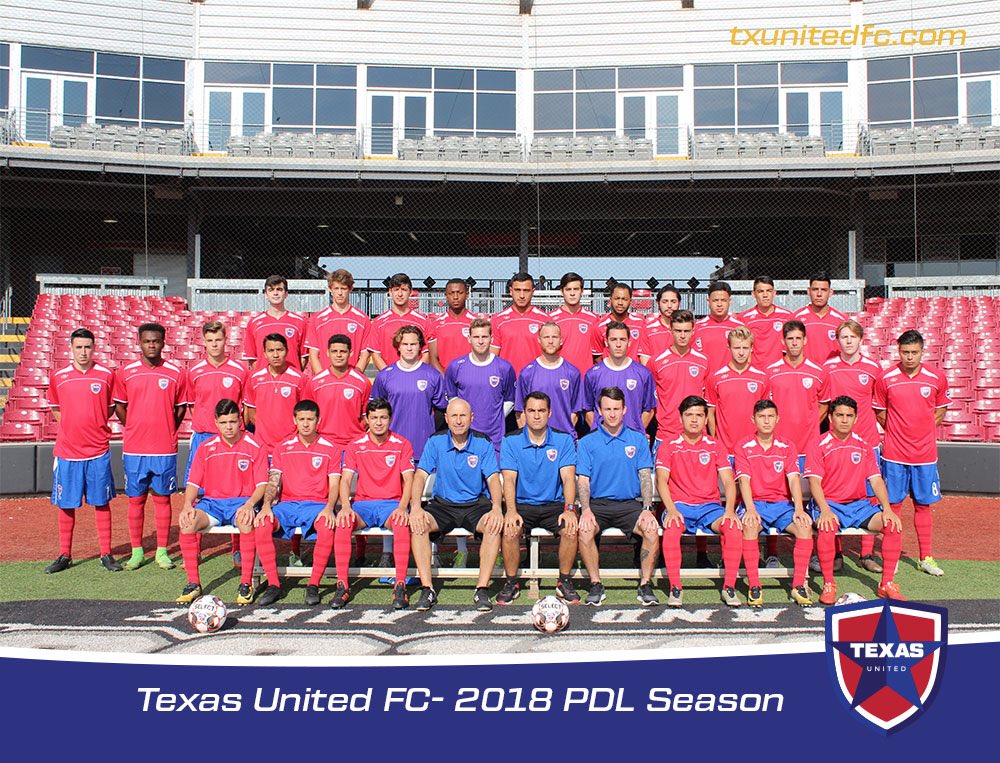 Image Credit:  Texas United Twitter
https://twitter.com/FCCleburne/status/997264185200279552
Texas United, who finished third in the Mid South Division last year, sent a message that they are not to be taken lightly this year when they overwhelmed North Texas rivals, FC Cleburne 5-0 Thursday night.  Both clubs share the same ownership, which helps make the rivalry games interesting.  The first of two goals from Julio Vargas, a Dallas area player from West Texas A&M, opened the scoring for Texas United in the 34th minute.  A second goal from Steven Pate, right before the half, sent the home side into the locker room with a positive start to the new season.  Vargas and Dominick Hernandez both scored in the second half and the tough night for Cleburne was capped by an unfortunate own-goal in the 86th minute.
FC Cleburne goalkeeper Joshua Nieto did what he could to keep the score close with this double save late in the first half.
Saturday, May 19:
Corpus Christi FC-3  FC Cleburne-2     Dugan Stadium-TAMUCC, Corpus Christi
A stoppage time goal from Gabriel Quesada, his second of the night and third of the season, led Corpus Christi FC Sharks to their first ever home win before an estimated 800 fans.  Quesada pounced on a loose ball in the six-yard box after FC Cleburne conceded a dangerous penalty opportunity.  This was Quesada's second late winner, having previously scored a 90th minute goal to beat Houston FC. The winning goal came after Cleburne's Julian Barajas, who played last year at Abilene's Midwestern State, and Wylie-native Evans Wiggles led a furious late comeback, scoring twice in a two minute span shortly before the end of regular time.  Quesada opened the scoring in the 5th minute and was followed by a 70th minute goal from Ian Sagstetter, which gave the Sharks, what appeared to be a comfortable two goal lead with 20 minutes left, especially since this was FC Cleburne's second road game in three days.
Sunday, May 20:
Texas United-3     OKC Energy FC U23-2     Oklahoma City University, Oklahoma City, OK
Texas United accomplished something no Texas PDL team was able to do in the 2017 season, beat OKC Energy FC U23 (3-2) Sunday night.  After forward Llewellyn Evans opened the scoring for Energy U23 only six minutes into the match, the trend appeared to continue.  Texas United demonstrated that 2018 is a new year and scored 3 unanswered goals, a 36th minute goal off a corner kick from Carrollton-native Matthew Constant and two goals, in a 12 minute span early in the second half, from Julio Vargas.  Vargas, with four goals in two games is now tied at the top of the scoring table for the entire PDL in 2018.  Energy FC U23 midfielder Louis Bennet pulled one back with a nice direct kick in the 63rd minute and the Oklahomans appeared to be poised to get a result after Texas United's Constant received a 79th minute red card.  United was able to withstand the OKC pressure to earn the milestone victory.   Energy U23 goalkeeper Cooper Clark saved a first half penalty and had five saves on the evening.
Mid South Division Standings
Week 4 Schedule:
Tuesday, May 22
Brazos Valley Cavalry FC vs. Houston FC
Thursday, May 24
OKC Energy FC U23 vs. AHFC Royals
Friday, May 25
Corpus Christi FC vs. Texas United
Sunday, May 27
FC Cleburne vs. Brazos Valley Cavalry FC