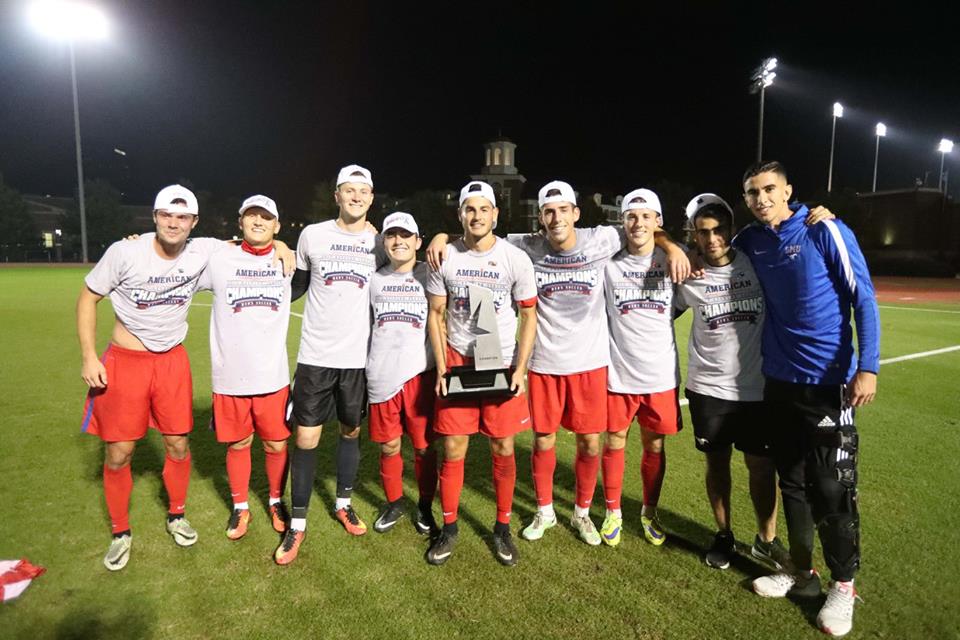 SMU Soccer's senior class after season ended Saturday night
At the beginning of the third week of the 2017 NCAA Soccer Tournament only three Texas soccer teams remained in the hunt for a championship.  After two of the sides lost to North Carolina teams on the road this weekend only one remains, Abilene's Hardin Simmons Women's Soccer team who play in the Division III Final Four next weekend, also in North Carolina.
Duke-4  Baylor-0
Baylor's deepest run in the playoffs in school history came to an end on Friday in Durham, North Carolina, when a shorthanded Bears team fell to Duke 4-0.  The Bears ended up behind the proverbial eight-ball six minutes into the match when Duke's Kayla McCoy opened the scoring.  The comeback became much harder when Baylor midfielder Lauren Piercy picked up her second yellow card of the match in the 40th minute and was ejected.  Duke put the match away early in the second half by scoring twice in a span of two minutes shortly after play resumed.  The shorthanded Bears nearly matched Duke shot-for-shot in the second half (10-9), but the Blue Devils added a final goal in the 87th minute.  The Blue Devils join Stanford, South Carolina and UCLA in the NCAA Division I Women's Soccer Final Four next weekend in Orlando, FL.
Despite the loss in the schools first Elite 8 appearance, the future is bright for the Bears who return 22 players for the 2018 season, including seven starters.  The returning players produced close to 70% of the goals scored by the team this year.
North Carolina-2  SMU-0 (Cary, NC)
The SMU men's soccer team was defeated by number 7 nationally ranked North Carolina, 2-0, in the third round of the NCAA Men's Soccer Championship Saturday in Cary, NC.  The Tar Heels will be moving on to the Elite 8 for the eighth time in the last 10 years.
The scoreless first half was broken when North Carolina's Jack Skahan scored the opening goal in the 50th minute.  The Tar Heels scored their second in the 82nd minute, effectively ending a chance for a Mustang comeback. SMU was only able to muster a single shot on goal during the match.
The Mustangs finish their season 17-3-1, the most wins since 2006.
Hardin Simmons Women's Soccer to play in Division III Final Four:
The Hardin Simmons Cowgirls will play in the NCAA Division III Final Four semifinals in Greensboro, NC on Friday, December 1 against Williams College (20-1-0) at 12:30 p.m. CST.  Undefeated Hardin Simmons beat Ohio Northern 1-0 in Geneva, NY to advance to this stage.  The Williams Ephs, currently on a streak of 4 consecutive shutouts, defeated Johns Hopkins 3-0 in the Elite 8 to advance to the Final Four.
Header Photo Credit:  SMU Twitter (@SMUSoccerM)