There are a 10 University Soccer Men's and Women's Programs (excluding club teams) in the Austin region.  2-NCAA Division I, 2-Division II, 4-Division III and 2-NAIA teams in total.  Here is an update on how the teams are doing as they near the end of their seasons.
NCAA Division I: 
Texas State (San Marcos) Bobcats Women: (9-4-1 overall—7-1-0-1st place in Sun Belt Conference)
With only 2 games remaining in the regular season, the Bobcats are 3 points ahead of South Alabama after winning twice this weekend.  Two goals by team scoring leader Rachel Grout led the Lady Bobcats to a 3-0 Friday road win over LA-Monroe and a 106th minute goal by Alyssa Phelan secured the weekend road sweep and sixth consecutive win when they defeated ARK-Little Rock 3-2 Sunday.  The victory Friday in Monroe clinched a Sun Belt Conference playoff spot for the Bobcats.  The regular season finishes this upcoming weekend with two home matches against Troy and second place South Alabama.
UT-Austin Longhorns Women (12-1-2 Overall—4-1-2-3rd place in Big 12 Conference)
Freshman midfielder Haley Berg scored a 93rd minute goal to lead the Longhorns to a win over Kansas State Sunday.  This victory allowed the 14th ranked (NCAA RPI) Longhorns to split their weekend series in Kansas.  9th ranked UT-Austin had previously suffered its first defeat of the season in a tough 2-1 loss on Friday to the University of Kansas in Lawrence.  2 second half goals by the Jayhawks were the downfall of UT who had taken a 1-0 halftime lead on a Mikayla Flores goal.  The Longhorns finish the regular season with matches away at Baylor Friday and home against conference leaders Oklahoma State in the finale next Sunday.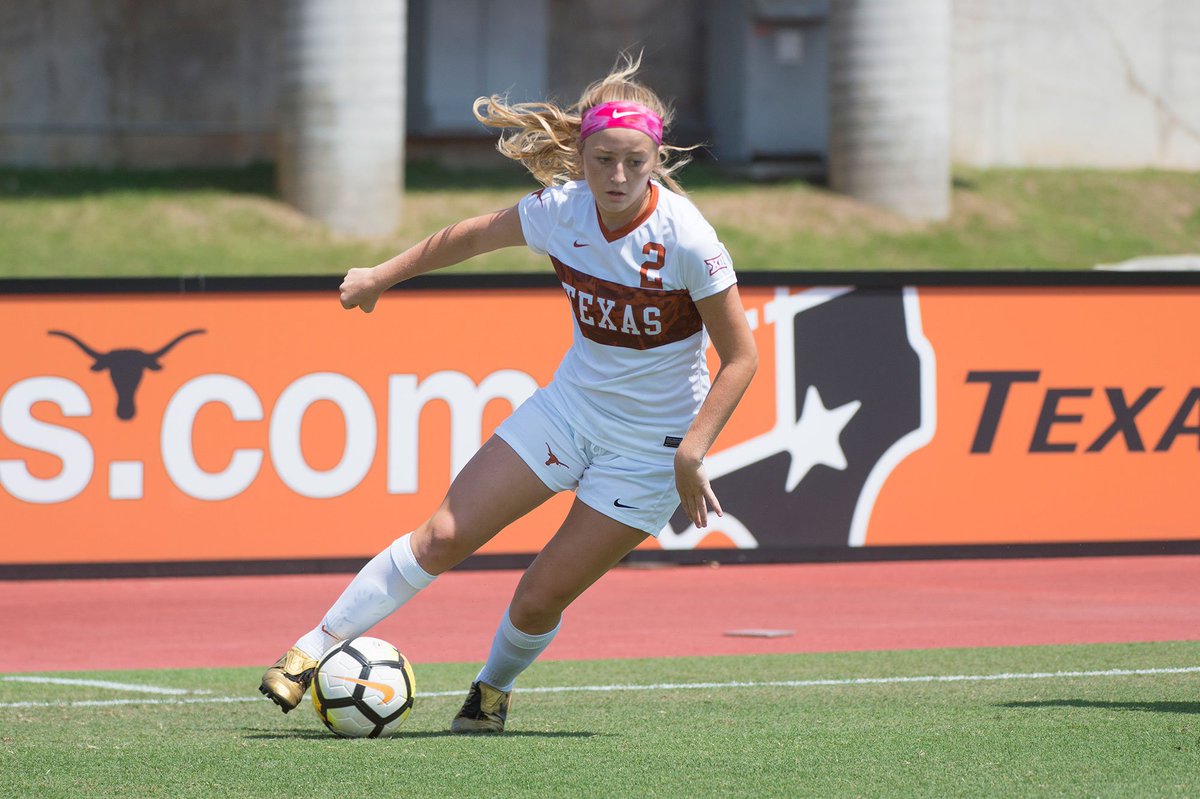 Haley Berg-Photo University of Texas @Texas Soccer Twitter Page
NCAA Division II: 
St. Edward's Hilltoppers Men: (11-2-1 Overall—8-1-1-2nd place points in Heartland Conference) 
The NCAA #18th ranked Hilltoppers Mens soccer team won both games this past week:  1-0 in 2 overtimes against West Texas A&M University on Thursday and 4-1 over Eastern New Mexico on Saturday.  The team now travels to Wichita Falls for a key matchup against conference leaders and #3 nationally ranked Midwestern State before finishing the weekend in Oklahoma City against Oklahoma Christian.
St. Edwards Women: (7-3-4 Overall—5-2-3-4th place in Heartland Conference)
The Lady Hilltoppers came away with a single point on their weekend road trip when they tied Newman in Kansas on Friday and lost 2-1 to Rogers State in Oklahoma Sunday.  There are four remaining games in the regular season, two this weekend at home against last place Oklahoma Christian and Lubbock Christian, who are tied for second in the Heartland Conference.
NCAA Division III:
Concordia Tornados Men:  (7-4-1 Overall—4-4-1-4th place in American Southwest Conference)
The Tornados men lost their home match on Saturday 2-1 to undefeated and #19 ranked nationally Mary Hardin Baylor (Belton).  This was the second consecutive loss during the just ended 3 game home stretch.  Concordia now will finish the regular season this upcoming weekend with 2 away games against Hardin Simmons and McMurry, both in Abilene.
Concordia Women: (8-6-0 Overall—4-5-0-tied for 7th place in American Southwest Conference)
The Concordia Women lost 6-1 to second place (and undefeated in conference play) Mary Hardin Baylor on Saturday.  The team has 3 remaining games and this weekend will play the same schools as the Men's team, except in Austin.
Southwestern (Georgetown) Pirates Men: (4-8-3 Overall—2-6-3-6th place in SCAC)
The Southwestern Men lost twice in the San Antonio area this past weekend: 3-2 in Kerrville against Schreiner University and 2-0 to Trinity.  Four games remain in the season, two next weekend against Colorado College and University of Dallas.
Southwestern Women: (2-11-0 Overall—2-8-0-last place in SCAC)
The rough season for the Southwestern University Women continued this past weekend with shutout away losses:  2-0 at Schreiner and 7-0 at Trinity.  The squad has three remaining games and travels to Dallas to play UT-Dallas and University of Dallas this weekend.
NAIA: 
Huston-Tillotson Rams Men: (5-3-2 Overall—4-1-1-3rd place in Red River Conference)
A split this past weekend on the road: a 3-0 win over Paul Quinn and a 2-1 loss to Southwest.  4 games remain in the regular season.  Home this weekend against UH-Victoria and Houston's St. Thomas University.
Huston-Tillotson Women: (9-2-0 Overall—4-2-0-4th place in Red River Conference)
Two away victories this past weekend against the same opponents as the Men: 3-1 over Paul Quinn and 1-0 over Southwest.  4 games also remain in the regular season.  Also home this weekend against the same opponents as the Men.