Any chance for a Texas team to finish in the top two of the Mid-South Division and advance to the PDL playoffs ended Saturday night when Brazos Valley lost to Mississippi Brilla. Despite the turnover in PDL rosters each year, the out-of-state returning teams, appeared to have a distinct advantage on the first year Texas sides and both qualified for the playoffs. OKC Energy and Brilla together lost only one match against a Texas team this year, when Brilla fell to FC Cleburne 2-0 back in early June.
The race to determine the best first year Texas team is still on.  The Cavalry are 3 points ahead of Texas United, but United has a game in hand.  Brazos Valley returns to the scene of the July 4 shootout in Cleburne this Saturday, where the two teams combined for 9 goals in a 5-4 Cleburne win.  Texas United has two games remaining, but a tough road to hoe, as they play against Brilla away and are home to OKC Energy U23.
PDL News:
Brazos Valley played their first international friendly this week against FC Monterrey Rayados U20's and came out a 2-1 winner.  Here is a link to the game story on the Cavalry website.
http://www.bvcavalryfc.com/news/?article_id=26
Week 10 Game Results:
Tuesday, July 4
FC Cleburne-5   Brazos Valley Cavalry-4
A true Fourth of July fireworks display rolled out at The Depot in Cleburne on Tuesday. Behind a Anthony Powell 33rd minute goal, FC Cleburne went into halftime with a quiet 1-0 lead.  The second half was a completely different story…..8 goals later, Cleburne came out on top of a 5-4 victory over Brazos Valley.  Powell scored two more goals, including the eventual game winner, to complete his hat trick and run his season total to 5 goals. Additional goals by Julian Sanchez and Stefan Lukic completed the FC Cleburne bonanza. Wrapped around these goals were the four scored by the Cavalry that certainly kept the game interesting.  Two by Aneikan William, the seemingly weekly goal by Elochukwu Ozumba (his 8th in 7 games) and Christian Molina were just short of what was needed to get a result to aid in the chase for the playoffs.  The Cavalry will rue missed opportunites as it was unable to capitalize on a 16-10 shots advantage and 13 corner kicks.
FC Cleburne hat-trick scorer Anthony Powell:  (FC Cleburne Twitter)
Thursday, July 6
Houston FC-1    Mississippi Brilla-2
An 86th minute goal by Mississippi Brilla's Carlos Garces overcame a valiant Houston FC effort to score a comeback win 2-1 Thursday evening in Houston.  Garces also assisted on the first goal scored by defender Jordan Skelton.  The Houston FC goal was scored by UT Tyler midfielder Erik Sanchez in the 21st minute.  According to the USLPDL website, Houston goalkeeper Patrick Michael Hillyard was extraordinarily busy, making 13 saves.
Pregame photo from Holloway Field at Rice University with the Texas Medical Center as a backdrop:  (Houston FC website)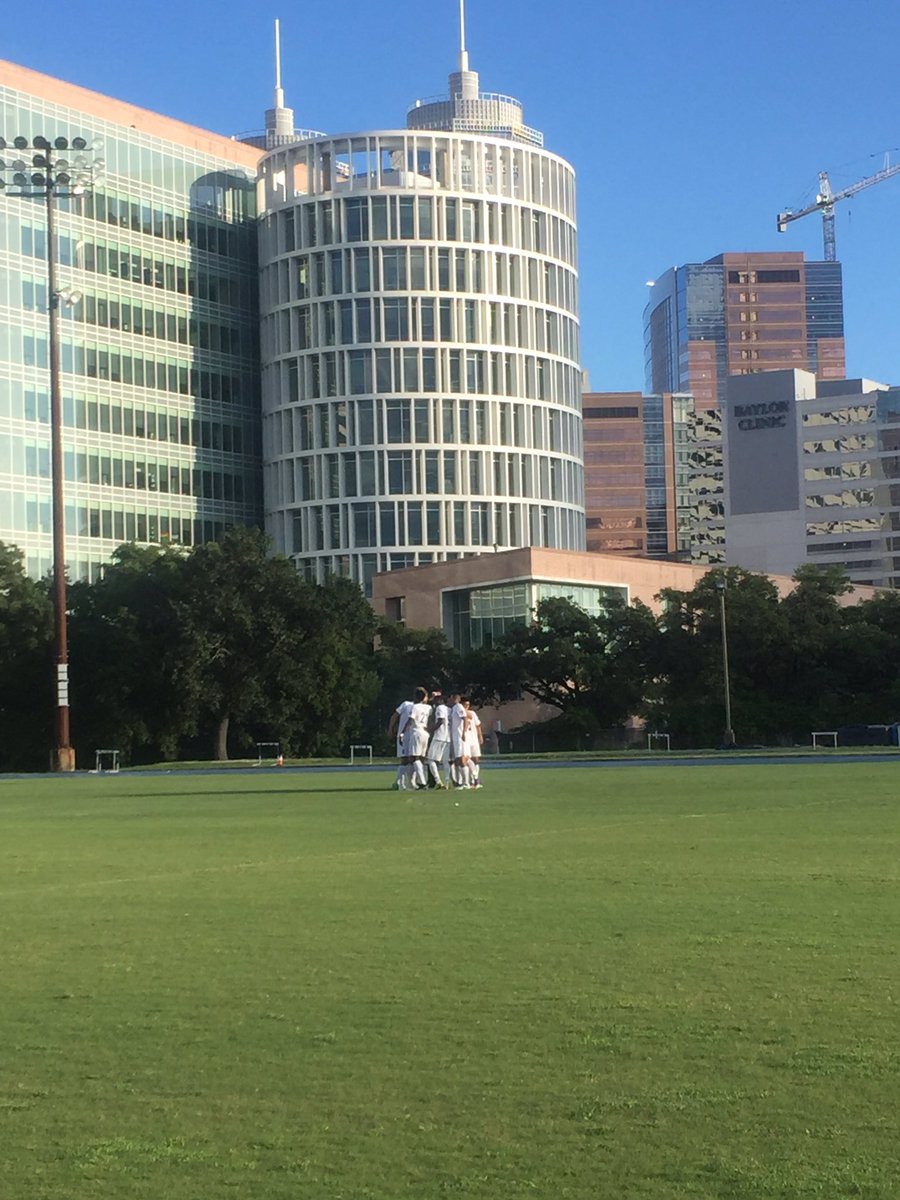 Saturday, July 8
Houston FC-1    Texas United-5
Two goals each, in the first ten minutes of the first half by Patricio Botello (from St. Mary's University in San Antonio) and in a five minute span late in the second half by Nenad Markovic, led Texas United to a blowout victory at Strake Jesuit High School, Houston FC's second home, in Houston. Giovanni MontesDeoca chipped in with the other goal on a long range shot for United midway through the first half.  Joshua Bronstorph scored the only goal on the night from Houston.  The start of the game, the final home game of Houston FC's inaugural season, was delayed by lightning, which forced players off the field during warmups.
Brazos Valley Cavalry-0    Mississippi Brilla-1
Any hope Brazos Valley had of making the PDL playoffs in its first season came to an end when they dropped a 1-0 decision to Mississippi Brilla, who are currently on an 8 game unbeaten run, in Bryan Saturday night.  Thomas Vancaeyezeele second goal of the season in the 71st minute was all Brilla needed to clinch their playoff spot.  The Cavalry, shorthanded due to injuries and players returning to college, played a number of kids from the U16 Houston Dynamo Academy team last night.  In an interview with Glenn Davis a few weeks ago, Dynamo GM Matt Jordan mentioned that one of the main purposes of the PDL side was to give minutes to young Academy players who have demonstrated the ability to play at that level.
In the game summary by Richard Croome in the Bryan Eagle, Cavalry head coach discussed the reality of needing to beat the teams ahead of them in the standings to get into the playoffs:
"The biggest disappointment for me is we lost to these guys three times," Cavalry coach James Clarkson said. "We can't complain, the two teams above us we haven't taken a point off of them. That is really disappointing because we are much better than that, so [we need to move] onward and keep fighting." 
The link to the game story in the Bryan Eagle is below:
http://www.theeagle.com/brazos_sports/bv-cavalry-fc-eliminated-from-playoff-picture-with–/article_d0a9e386-6464-11e7-9d89-bbc4fd1a07e5.html
Sunday, July 9
OKC Energy U23-6    FC Cleburne-0
OKC Energy U23 is very good to say the least.  The Energy are one game away (vs. Texas United this weekend) from sweeping all 11 regular season games it will play against Texas teams this year.  Sunday night, Julio Moncada, number 13 on the PDL Top 50 Prospects list, scored a hat trick and assisted on a fourth goal to lead OKC to a 6-0 blowout of FC Cleburne in Edmond, Oklahoma.  Moncada, a Honduran who attends UNC Wilmington, now has scored 11 goals, two behind the league leader.  FC Cleburne goalkeeper Casey Tilley had his work cut out for him as Cleburne was outshot 21-7 on the afternoon.
Julio Moncada (OKC Energy U23 Twitter)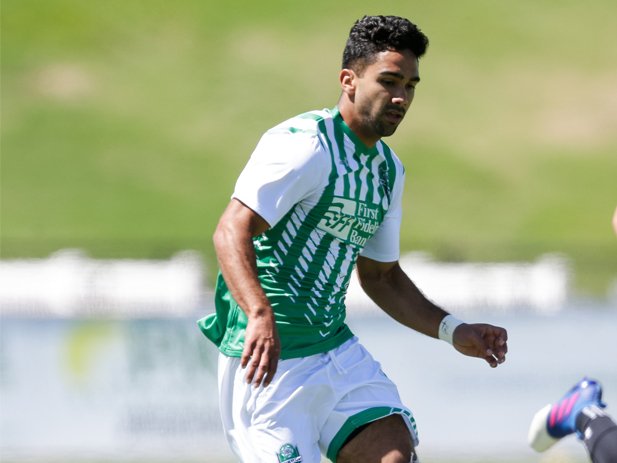 The game story from the Energy website can be found in the link below:
http://www.energyfc.com/news_article/show/811750?referrer_id=2614758
STANDINGS:
Southern Conference/Mid-South Division:
Week 11 Game Schedule: (Home Team Listed First)
Wednesday, July 12
Mississippi Brilla vs. Texas United
Thursday, July 13
FC Cleburne vs. Houston FC
Saturday, July 15
FC Cleburne vs. Brazos Valley Cavalry
Texas United vs. OKC Energy U23
END OF REGULAR SEASON
PDL logo courtesy of ChrisCreamer'sSportsLogos.Net