Premier Development League (PDL) Texas Week 9 Recap/Week 10 Preview
With two victories last week, Brazos Valley Cavalry, now unbeaten in its last four matches, has firmly put itself back into the PDL playoff discussions.  The top two sides from the Mid-South Division will qualify for the 2017 playoffs that will start later this month. OKC Energy, who qualified last week, officially clinched its second consecutive division championship after defeating Texas United Saturday and second place Mississippi Brilla gave up a late goal and only tied its weekend match.
The Cavalry controls its own destiny in the playoff race.  Since it is only two points behind second place Mississippi, and because one of its remaining games is at home against Brilla, winning out will allow the Cavalry to advance to the first round of the playoffs, regardless of Brilla's results.  FC Cleburne has a chance to be a spoiler as two of the Cavalry's remaining matches will be played at The Depot in Cleburne.
Texas United remains mathematically alive for the playoffs, but after the loss against OKC Energy this past weekend, United would need to win out and be the beneficiary of a monumental collapse by the two higher teams above them in the standings.
Week 9 Game Results:
Wednesday, June 28
Brazos Valley Cavalry-4   FC Cleburne-1
After falling behind in the first half and facing strong pressure from the Brazos Valley's attack, FC Cleburne's  Kwabena Sapon-Amoah capitalized on a Cavalry mistake and tied up the match 1-1 when he scored his 3rd goal of the season in the 85th minute.  The Cavalry, who apparently took this goal personally, scored in the next minute and then twice more shortly after to eventually win 4-1 in Bryan.  Matt Dorsey, Elochukwu Ozumba, and substitute Christian Molina each scored in this flurry, and Molina and Ozumba had an assist each on the first two of these three late goals.  Robert Hernandez had opened the scoring with his second of the season for Brazos Valley in the 34th minute.  The Cavalry dominated the attacking statistics with a 19-9 shot on goal advantage and 13 corner kicks.  FC Cleburne goalkeeper Joshua Nieto was kept busy and made an impressive 12 saves, something a GK would prefer not to be necessary.
In the game story by the Bryan Eagle's Richard Croome, Cavalry head coach and Houston Dynamo Academy Director James Clarkson discussed how uncomfortable the one goal lead became late in the match, but also how happy the team was with the result:
"It was good to score four goals at home, so that is 11 goals in the last three games and we are happy about that," Clarkson said. "We should have taken care of it a lot earlier than the last 3 minutes, but it was a good response from giving the goal away to come back and finish the game strongly." 
Here is a link to the game story on BrazosSports.com:
http://www.theeagle.com/brazos_sports/soccer/cavalry-fc-rides-past-cleburne/article_6fe09234-2d25-56a9-8142-b9ac0f700b69.html                             
Thursday, June 29
Mississippi Brilla-0  Houston FC-0
Houston FC Goalkeeper Patrick Michael Hillyard made 4 saves and stopped a late penalty to allow Houston to pick up an away point in Clinton, MS.  The penalty stop came after the first penalty, successfully completed by Brilla's Thomas Vancaeyezeele, was called back because a Brilla player had entered the box too early.  Vancaeyezeele second chance was then saved by Hillyard.  Brilla outshot Houston 11-2 with zero Houston shots on goal, and according to the game account on the Brilla website, dominated possession.
Game photo:  (Mississippi Brilla Twitter)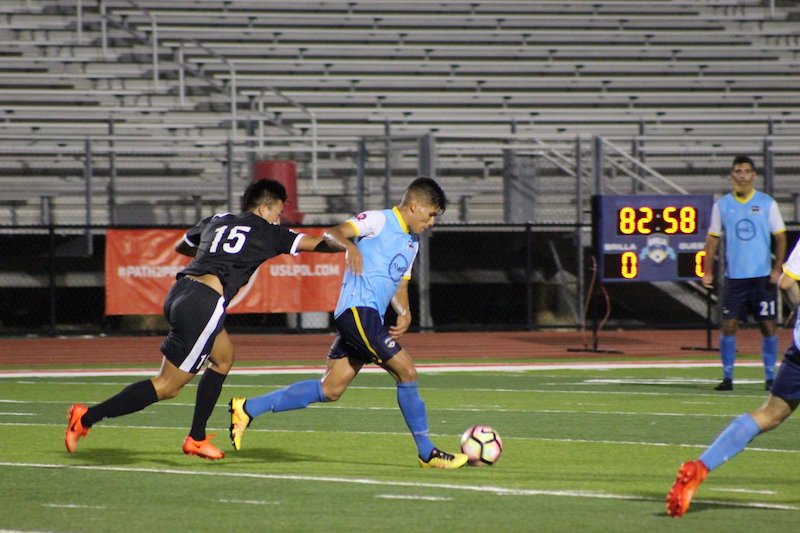 Saturday, July 1
Texas United-1   OKC Energy U23-3
A 4th minute score by Julio Moncada was the first of three unanswered goals that led OKC Energy to a 3-1 win over Texas United in Grand Prairie.  A late consolation goal off a free kick by substitute Flavio Guzman, his third of the season, prevented a shutout. United had a chance to pull the score closer, but unfortunately missed an 83rd minute penalty.
Houston FC-1   Brazos Valley Cavalry-3
Brazos Valley built a 3-0 lead and held off a late Houston FC push to win the road match 3-1 at Holloway Field on the Rice University campus in Houston. Forward Elochukwu Ozumba, continuing his sizzling recent attacking form, opened the scoring with his 7th of the season in the 21st minute.  3 minutes later Ozumba combined with Aneikan William to score a second goal, with William putting the ball in the net.  The Cavalry scoring was completed by Robert Hernandez in the 53rd minute, his third of the season. Houston FC midfielder  Alex Reyes scored his second goal of the season in the 77th minute to prevent the BV shutout.
Houston FC Starting Lineup:  (Houston FC Twitter)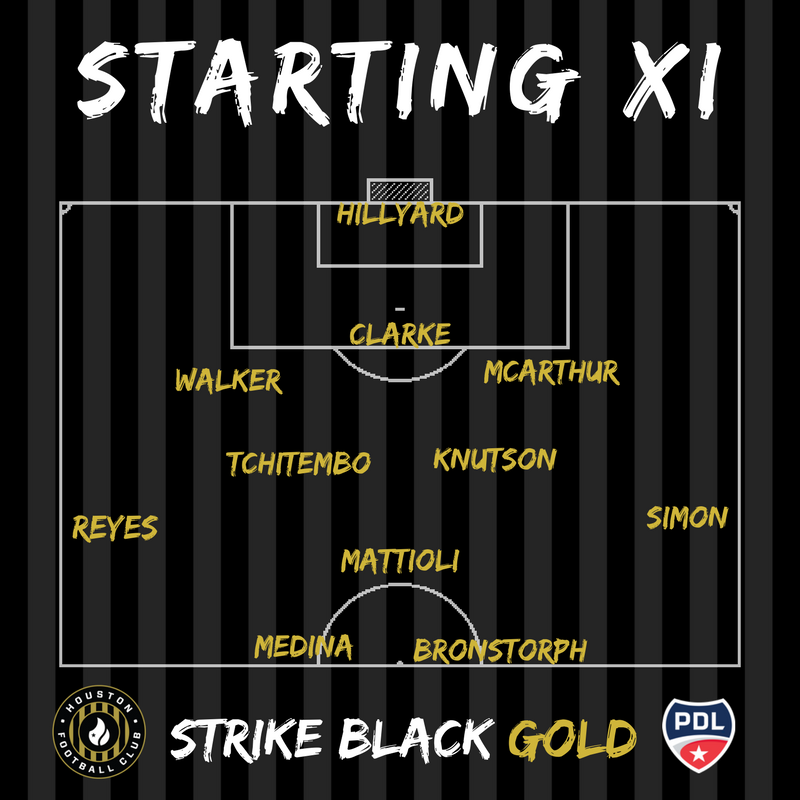 STANDINGS:
Southern Conference/Mid-South Division:
Week 10 Game Schedule: (Home Team Listed First)
Tuesday, July 4
FC Cleburne vs. Brazos Valley Cavalry
Thursday, July 6
Houston FC vs. Mississippi Brilla
Saturday, July 8
Houston FC vs. Texas United
Brazos Valley Cavalry vs. Mississippi Brilla
Sunday, July 9
OKC Energy U23 vs. FC Cleburne
PDL logo courtesy of ChrisCreamer'sSportsLogos.Net