NPSL released its 2017 playoff structure and details earlier this week.  The top 4 teams in both the Lonestar and Heartland conferences will qualify for the playoffs, with the two top teams hosting opening round matches. Conference semifinals will be played on July 12 and finals on July 15.  The winners of these finals will advance to the South Region Playoffs.  Further details are provided in the link below
As of today, Dutch Lions would play Shreveport Rafters in Conroe in the opening round and Midland-Odessa FC would host Ft. Worth Vaqueros in West Texas.  Since the Vaqueros have two remaining games, winning out would, at a minimum, secure home field advantage in the opening round. Houston Regals SCA have slim playoff hopes, but it would require a win against the Vaqueros and Dutch Lions to win in Shreveport.  If Houston wins and Dutch Lions FC tie that match, tiebreakers would need to come into play.
In the Heartland Conference, a victory or tie against Demize NPSL Thursday would guarantee a playoff spot for Dallas City FC.
NPSL News:
The Houston Chronicle ran a nice feature on Dutch Lions FC and Austin St. Edwards University attacker Jose Pablo Covarrubias, who has resumed his career this summer after a 5 month recovery period necessitated by foot surgery.
http://www.chron.com/neighborhood/woodlands/sports/article/SOCCER-Covarrubias-Dutch-Lions-primed-for-11251232.php
Week 9 Game Results:
Thursday, June 29
Shreveport Rafters FC-2   Tyler FC-0
Two Shreveport goals, one in each half, allowed the Rafters to secure a 2-0 home win over Tyler FC.
Game video and report from KSLA TV in Shreveport-Bossier:
http://www.ksla.com/story/35785289/rafters-fc-defeats-tyler-fc-2-0
Saturday, July 1
Dutch Lions FC (HDL FC)-2  Shreveport Rafters FC-1
Coming back from a goal down, Dutch Lions FC took a huge step towards the Lonestar conference championship when they defeated Shreveport 2-1 in Conroe.  The Rafters opened the scoring in the 15th minute when Jackson Darnell caught HDL FC goalkeeper Marc Olsen off the line and chipped over him into the goal.  Jose Pablo Covarrubias brought the match level when he scored in the 40th minute.  Dutch Lions were unlucky to not be ahead at the break, as three shots hit the woodwork in the first half.  After multiple solid HDL FC chances were denied, defender and Man of the Match, Archie Massen finally broke through to score the game winner in the 88th minute
Dutch Lions Starting lineup and Man of the Match photos:  (HDL FC Twitter)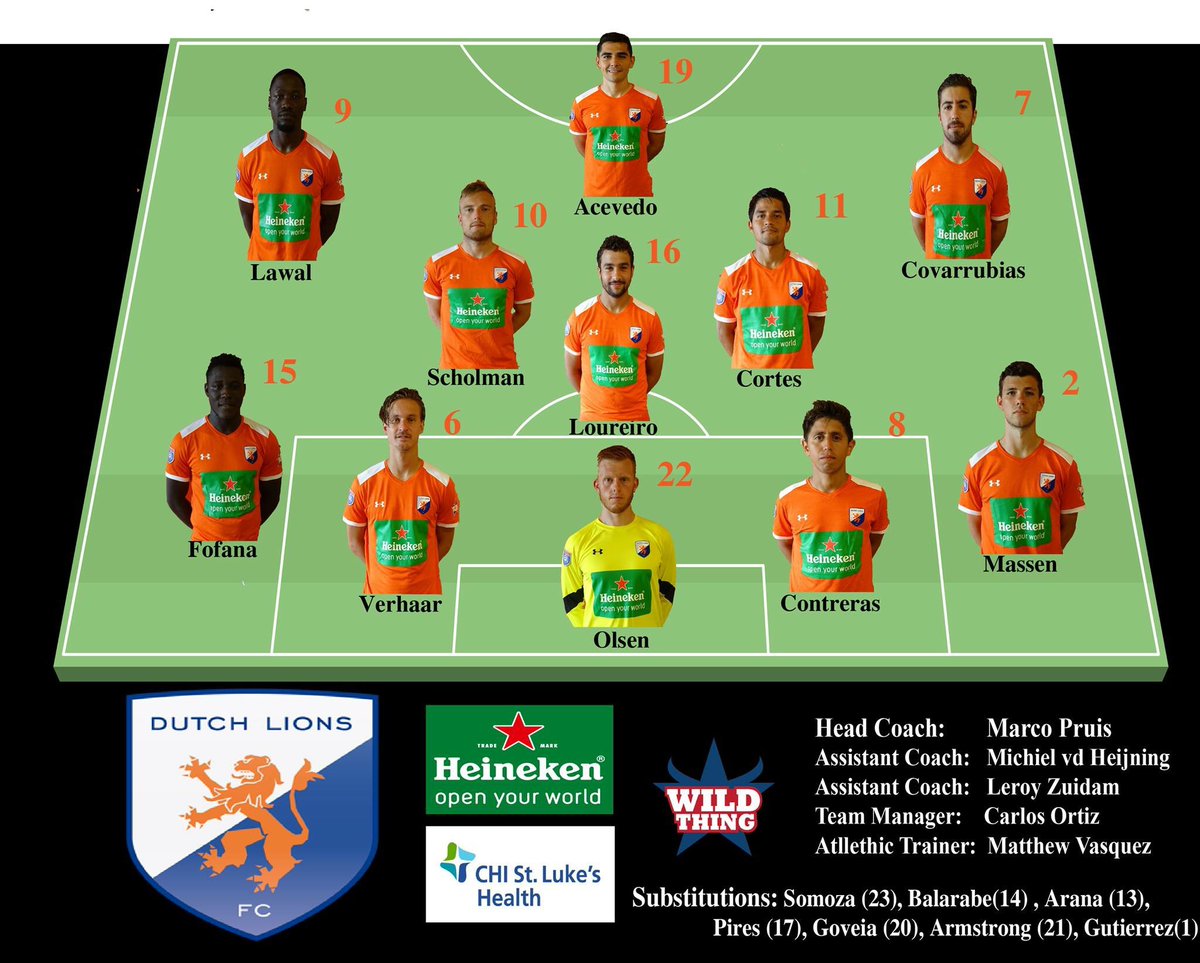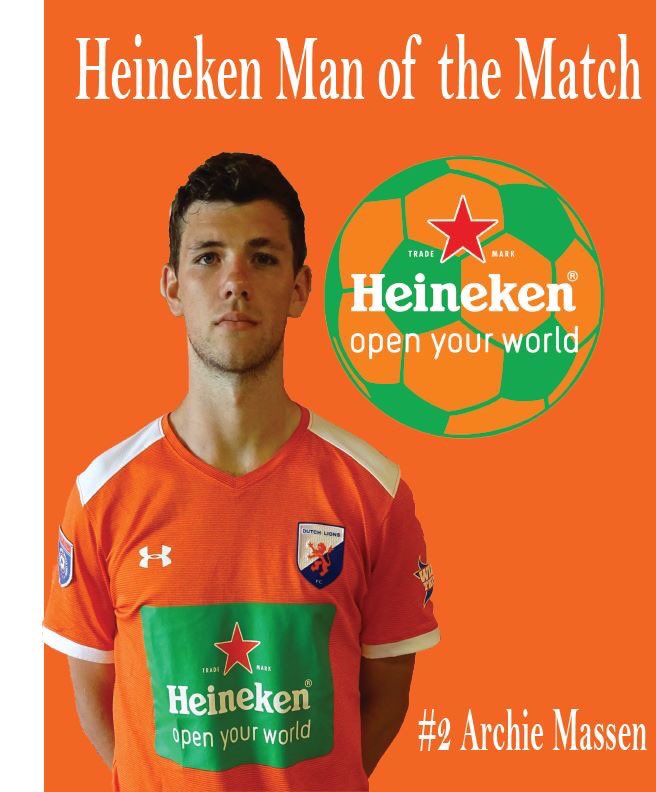 Houston Regals SCA-1   Ft. Worth Vaqueros-2
The Vaqueros booked a place in the NPSL playoffs after defeating Regals SCA at KIPP Academy in Houston.  A 5th minute goal headed home by Matthew Rochowski put the Regals on their heals early, and Harris Partain rounded the goalkeeper to score the eventual game winner in the 85th minute to close out the Ft. Worth scoring.  A late penalty by Oscar Roque pulled Houston back, but a tying goal was not in the cards. Regals SCA played a man down from the 78th minute after Jose Munoz was shown a second caution. A yeoman effort by the Regals goalkeeper kept the team in the game in the second half, including a 58th minute penalty save.
Vaqueros Team Photo after game:  (Ft. Worth Vaqueros Twitter)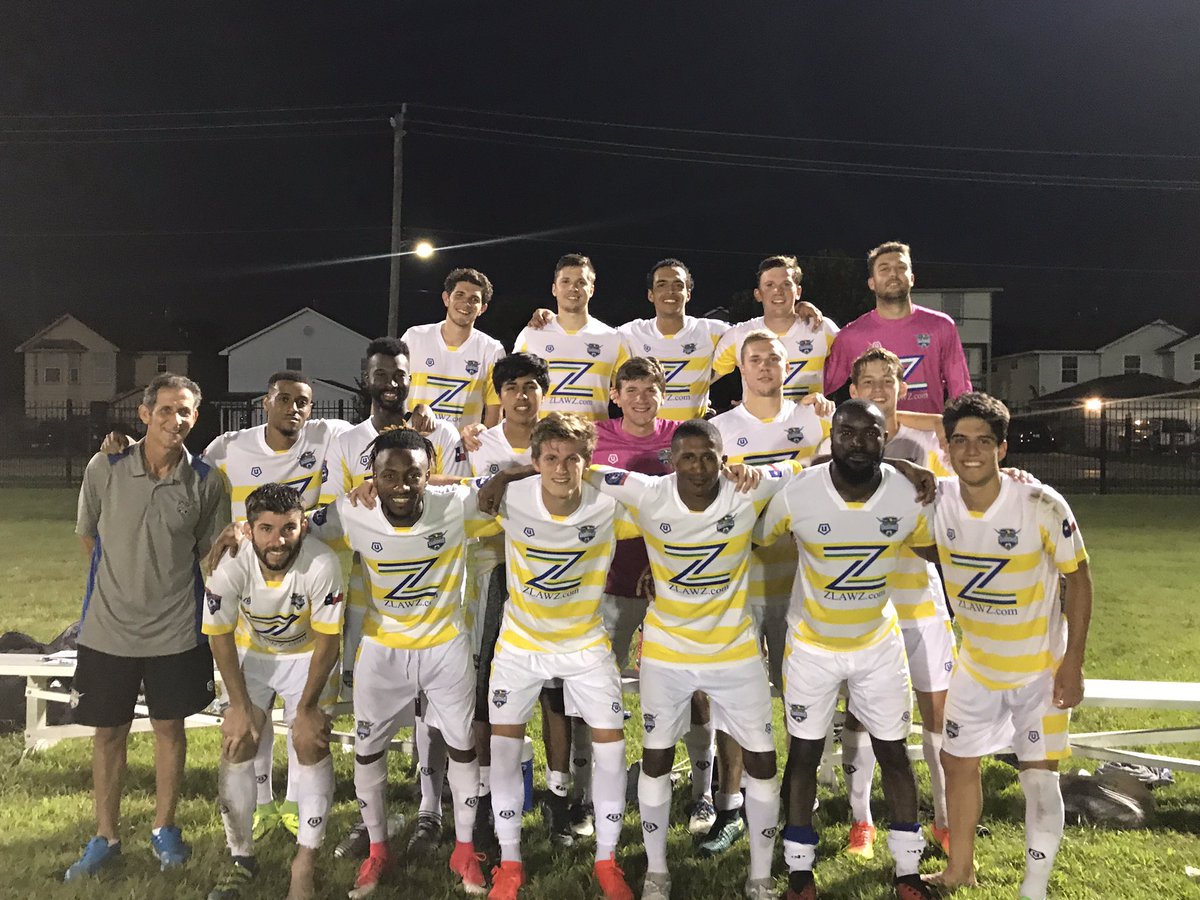 Sunday, July 2

Dallas City FC-0   Tulsa Athletic-1
A Dallas FC home match, rescheduled to Rogers State University in Claremore, Oklahoma (northeast of Tulsa) because of unplayable field conditions at Dallas City's field, turned into a wild affair Sunday night.  After a lengthy weather delay, Tulsa's Dave Leung quickly scored a 2nd minute goal and Athletic held on for a 1-0 victory.  The game got out of hand near the end when two Dallas City players were ejected late in the match, one for violent conduct and the second for serious foul play.  Further adding insult to injury, Dallas City head coach Carlos Fernandes was also ejected in the 88th minute. According to the Tulsa Athletic Twitter account, the match was ended one minute early. This is the second consecutive week that Dallas City has been involved in a late game disturbance.
STANDINGS:
South Conference -Lonestar Division
South Conference-Heartland Division
Week 10 Game Schedule: (Home Team Listed First)

Friday, July 7
Midland-Odessa FC vs. Tyler FC
Saturday, July 8
Shreveport Rafters FC vs. Dutch Lions FC
FC Wichita vs. Dallas City FC
Ft. Worth Vaqueros vs. Houston Regals SCA
Sunday, July 9
Dallas City FC vs. Demize NPSL (makeup game from June 10)
FC Tyler vs. Ft. Worth Vaqueros  (Makeup game from June 24)
NPSL logo courtesy of ChrisCreamer'sSportsLogos.Net