The Mid-South Division of the USL PDL is approximately 50% of the way through the 14-game regular season, which ends on Sunday July 16.  OKC Energy U23 has played two more matches (9 total) than all division teams except Texas United who has played 8 to this point.  The PDL Playoffs will begin with play-in matches on July 18, while the PDL Championship will take place on Aug. 5.
Energy U23, who are undefeated and on 27 points (impressive +21 goal differential too), are virtually guaranteed to win the division, barring a hard to imagine meltdown.  It just completed a two game road trip in Texas where the team won both, outscoring Houston FC and Brazos Valley FC 10-2. The race for second place, and if the 2016 PDL playoff format is repeated this year, a place in the playoffs, is still within reach for all Texas clubs. Mississippi Brilla, who along with Energy U23 are the only returning clubs in the division from last year, are 6 points clear of the Texas teams, though it does have a daunting road trip to Oklahoma where Brilla play two straight against Energy U23 during this upcoming week.
In the competition for the best first year Texas PDL team, Brazos Valley Cavalry, on a points per game basis, has a small lead over Texas United, only because it has played one fewer match.  One factor in the Cavalry's favor is that it plays OKC one less time than the other teams and has finished the season series with Energy U23.
Texas PDL news:
The USL PDL website published a profile of Houston FC head coach Bruce Talbot last week.  Talbot was quoted in the article talking about opportunities the club is presenting for soccer players in Houston:
"We have been in the Houston area for three years now and think there is a great opportunity to unite a segment of soccer in Houston not in competition but complementing the MLS franchise," Talbot told USLPDL.com. "Soccer is all over the city. You cannot drive five minutes without seeing a pitch. We believe that with the network we have in Houston, we can help shape the culture to one that helps benefit the youth of our community and give youth players in Houston another example and goal to reach in playing for our club and move them on to the next level."
http://www.uslpdl.com/news_article/show/804505?referrer_id=2242498
Week 7 Game Results:
Thursday, June 15
Texas United-1   Brazos Valley Cavalry FC-2
First half goals, both on penalties, by Rimario Gordon and Emmanuel Usen (his third of the year) allowed the Cavalry to weather a furious late comeback by Texas United Thursday evening in Grand Prairie.  Gordon, who was named to the PDL Top Prospects list for the first time last week, scored his 4th goal of the season.  Flavio Guzman scored a late goal off a well taken free-kick for United in the 90th minute, but it was too little, too late and the Cavalry was able to hold on.
Texas United starting lineup from its Twitter feed: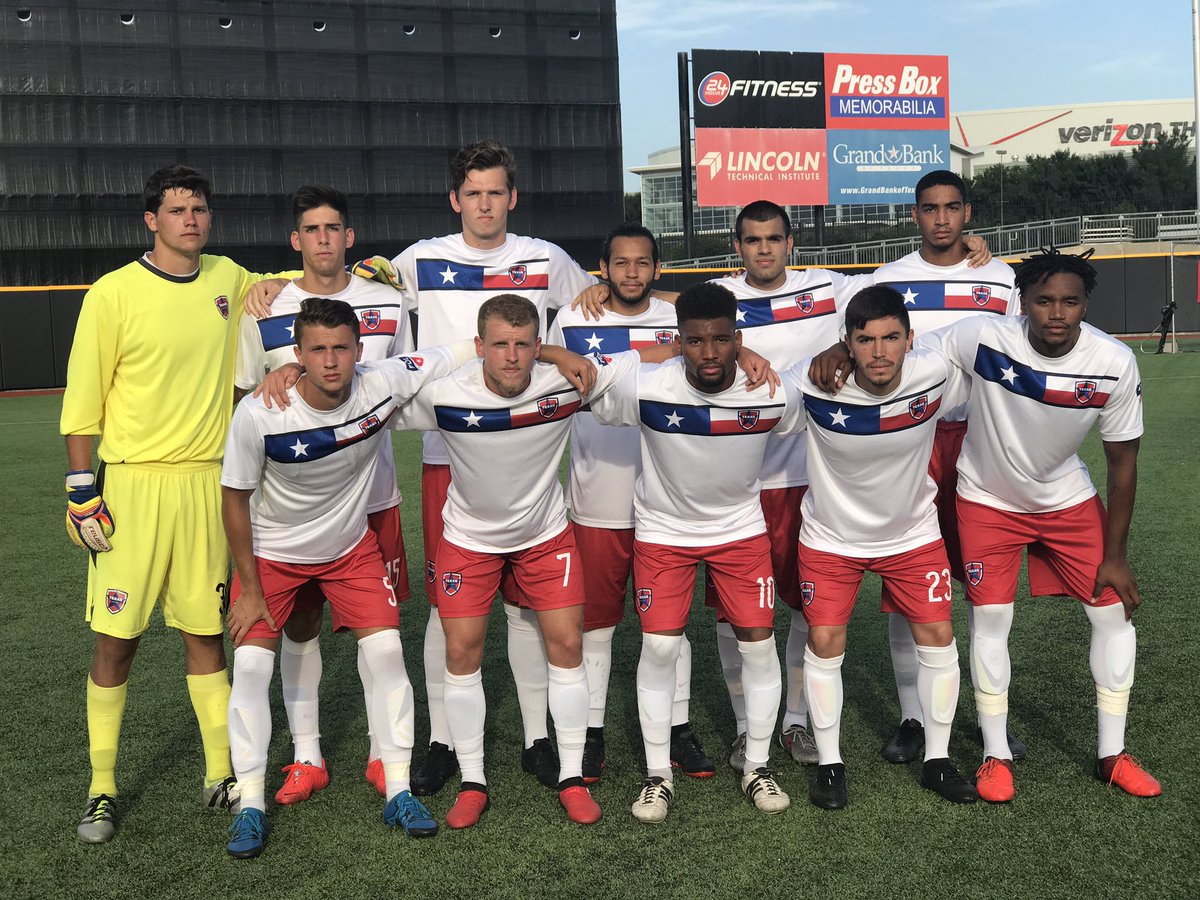 Houston FC-1   OKC Energy U23-4
The bad news is that OKC Energy U23 scored three time in the second half to blow open the match against Houston FC, played at Strake Jesuit High School, Houston FC's second home.  The good news is that the Bayou City club doesn't have to play the undefeated (8-0-0) Energy U23 anymore this season.  Houston FC weathered the storm in the first half and went into the locker room only trailing 1-0.  Unfortunately, the quality of the Oklahoma side showed in the second half and Julio Moncada (who now has 5 goals on the season) scored twice for the Energy youth side in the space of 8 minutes to seal the victory.  Christian Okeke chipped in with 3 assists in 74 minutes for OKC.  Daltyn Knutson was able to pull one back for Houston when he headed in a Ismaiel Alkayali corner kick in the 83rd minute.  The Energy U23 domination was also demonstrated by the 22-8 shots on goal advantage during the evening.
Saturday, June 17
Texas United-3   Houston FC-0
Texas United defeated Houston FC 3-0 in Grand Prairie last night.  Houston FC, who had played a difficult match against OKC Energy Thursday night and then had to make the long journey from South to North Texas on short rest, were outshot 14-7 and unable to muster much offense.  Jackson Crawford opened the Texas United scoring with his first of the season in the 14th minute which forced Houston to chase the match in the June Texas heat. United's Alan Rivera scored in the 62nd minute and Patricio Botello completed the scoring in the 78th with his second of the year.    United goalkeeper Charles Schober kept the shutout with 4 saves.
Texas United goal scorers and Emmanuel Kiwele in front who was welcomed back to AirHog Stadium           (Texas United Twitter)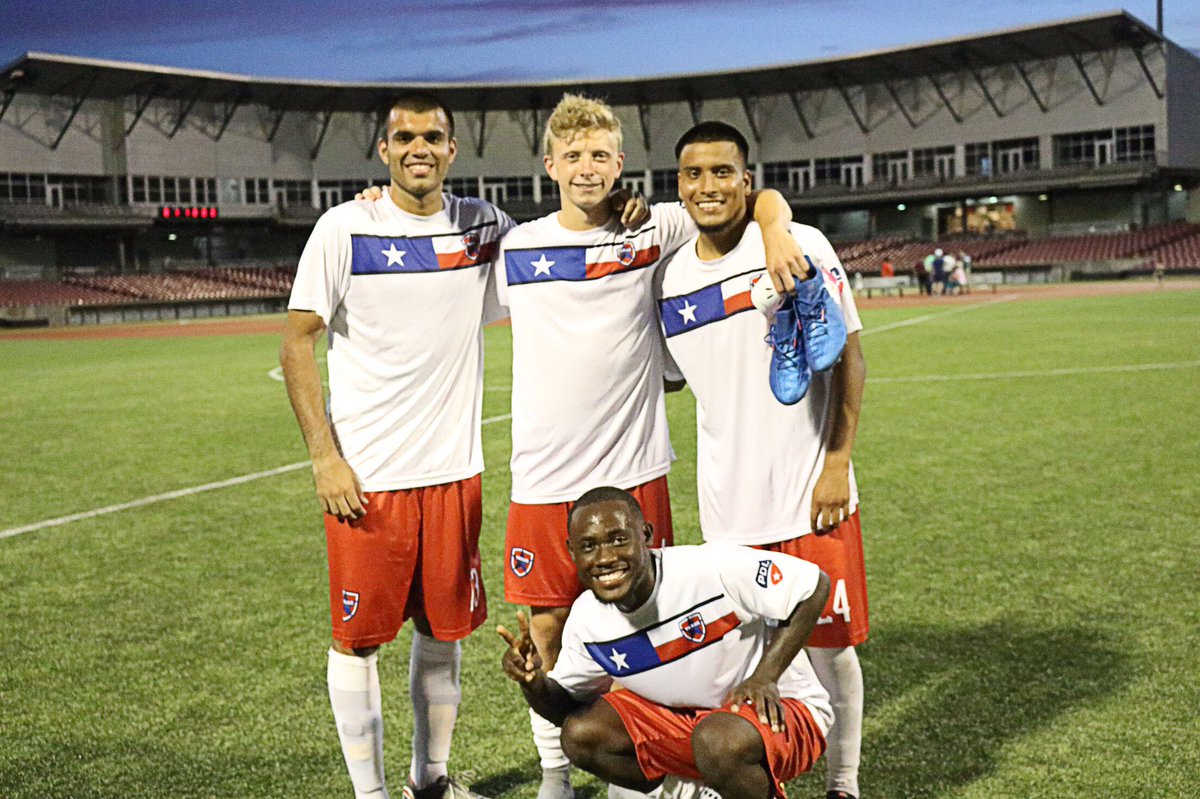 Mississippi Brilla-5  FC Cleburne-0
FC Cleburne made the long trip to Mississippi and it turned out to be a tough payback for Cleburne's home win over Brilla last weekend.  Brilla didn't wait long to send a message, taking advantage of a defensive mistake when Badreddine Boulajoul was left unmarked in front of the goal and finished a nice cross.  After a methodical build-up Boulajoul scored his second of the night and the season in the 35th minute, when he was again given too much space at the back post.  Three second half goals finished up a rough night for FC Cleburne and, I suspect, made for a long trip back to Texas.  There will be no rest as Cleburne plays again on Monday and Wednesday nights.
Brazos Valley Cavalry FC-1   OKC Energy U23-6
Unfortunately, the Cavalry were also on the back end of a battering, losing 6-1 to an undefeated and very talented OKC Energy side 6-1 last night in Bryan.  Noah Keats scored twice and four different Energy players scored the others, 3 in each half.  Energy U23 had 19 shots on goal and Cavalry goalkeeper James Fetterly needed to make a staggering 14 saves, including a penalty kick stop, showing that the scoreline could have been a lot worse.  Forward Elochukwu Ozumba scored his first goal of the season and the only goal of the night for Brazos Valley off an assist by Rimario Gordon.  The Cavalry played the last 20 minutes a man down after defender Stuart Close picked up his second yellow and was ejected from the match.  In the game story on Brazos Valley Sports by David Campbell (@ScoopSports), Cavalry star Rimario Gordon was quoted discussing the team performance and the teams 11 shots:
"That just means we have to finish our chances. We did good. They're a very good team, obviously first for a reason. We have to go back to the drawing board, regroup and come again."
Cavalry Starting Lineup (Brazos Valley Cavalry Twitter)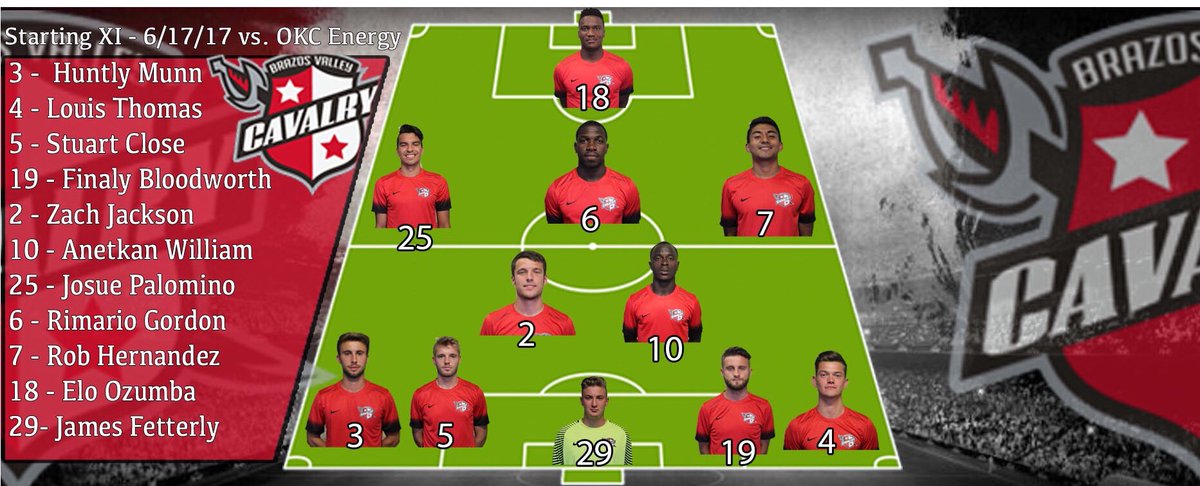 STANDINGS:
Southern Conference

Week 8 Game Schedule: (Home Team Listed First)
Monday, June 19
FC Cleburne vs. Houston FC
Wednesday, June 21
FC Cleburne vs. Texas United
Thursday, June 22
Brazos Valley Cavalry vs. Houston FC
Saturday, June 24
Brazos Valley Cavalry vs. Texas United
NPSL logos courtesy of ChrisCreamer'sSportsLogos.Net