After Week 3 action all Texas teams have opened their seasons in both leagues except for PDL side Brazos Valley Cavalry…who play there first ever match this Thursday in Clinton, Mississippi.
Week 3 Game Results:
Thursday, May 18, 2017:
Midland-Odessa FC (MOFC)-2   Houston Regals FCA-0
Midland-Odessa won its opener 2-0 despite lacking a full roster and not holding a preseason camp or true team training session according to reports by Eric Blum on oaoa.com.  MOFC's first goal was scored by forward Ricardo Palomino in the 23rd minute and Darius Strambler scored the second in the 37th.  Goalkeeper and team captain Braulio Linares-Ortiz had the shutout and four saves. Here is a link to the Odessa American game report: http://www.oaoa.com/oavarsity/boys/article_e32dad84-3c47-11e7-84f2-0701df95526e.html
Friday, May 19:
Dallas City FC-0   FC Wichita-2
Second half goals by Deri Corfe in the 65th and 70th minute led to Dallas City's first loss of the season at the Greenhill School Stadium in Dallas.  The closest Dallas FC came to scoring is when forward Luis Sosa had a ball cleared off the line after he had beaten the goalkeeper.  This was the third consecutive victory for Wichita over Dallas City dating back to 2015.  Here is a link to the FC Wichita game story: http://www.fcwichita.com/2017/05/fc-wichita-men-score-big-road-victory/
Saturday, May 20
Ft. Worth Vaqueros-3   Dutch Lions FC-0
After a midweek loss to San Antonio FC eliminated Houston Dutch Lions from the U.S. Open Cup, they traveled to Ft. Worth and lost 3-0 to the Vaqueros.  Goals by Jesse Miralrio 20 seconds into the game, a penalty by Jamie Lovegrove in the 52nd and Marco Ortiz in the 78th allowed the Vaqueros to win their second match of the season.  Here is a link to the game story on the Vaqueros site: http://www.fortworthvaqueros.com/news_article/show/795090?referrer_id=3277387
This was the Dutch Lions starting eleven: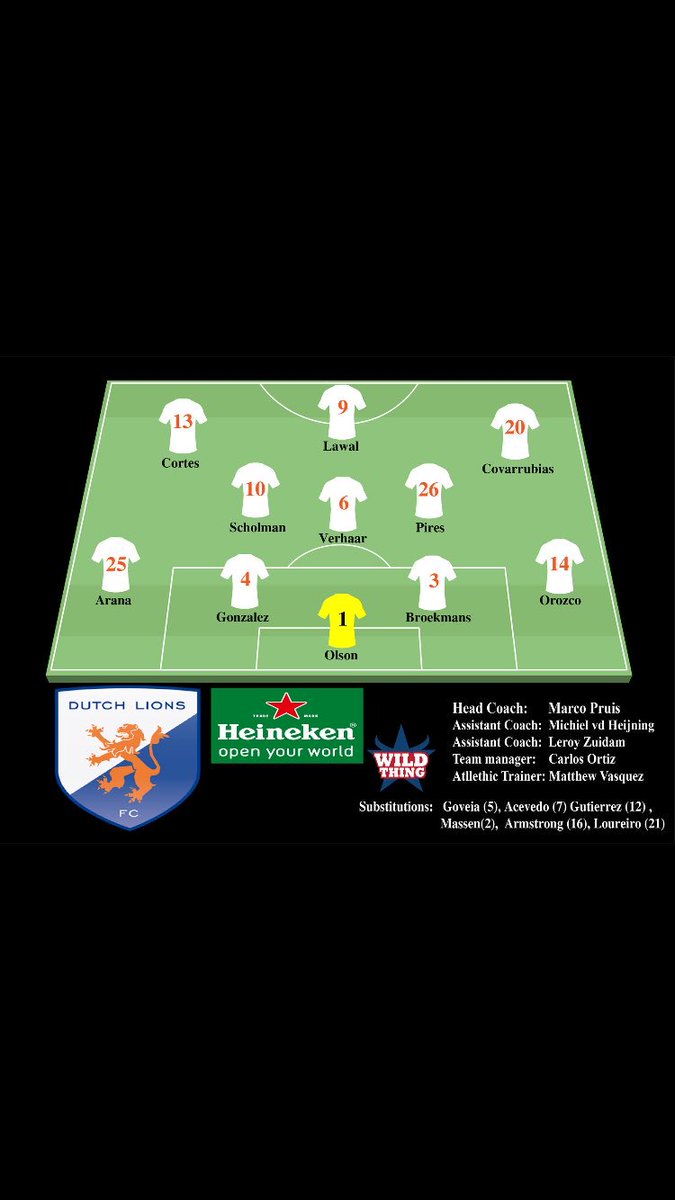 Tyler FC-0   Houston Regals SCA-0
In a feisty match that included eight yellow cards and two players sent off, neither team was able to score.  Tyler Kings Giovanni Sosa was red carded along with the Houston Regals SCA goalkeeper in the 85th minute due to an altercation.  This was Tyler FC's first ever match.  Here is a link to the Tyler FC game story: http://www.tylerfootballclub.com/news/tfc-tie-the-houston-regals-at-their-first-home-game
Sunday, May 21
Midland-Odessa FC-3   Shreveport Rafters-0
Midland Odessa won its second game of the opening week.  The first goal was scored in the first minute by Ricardo Palomino, his second of the young season.  Forward Darius Strambler also scored his second in the 46th minute.  The final goal was scored by midfielder Maliq Cooper off an assist by Strambler.  Goalkeeper Braulio Linares-Ortiz had his second consecutive shutout with five saves.  Here is a link to the game report from the Odessa American's Eric Blum: http://www.oaoa.com/sports/local/article_d3593332-3e9b-11e7-adaa-c3b68ee417bc.html
Week 4 Game Schedule: (Home Team Listed First)
Wednesday, May 24:
Shreveport Rafters vs. Ft. Worth Vaqueros
Friday, May 26:
Little Rock Rangers vs. Dallas City FC
Saturday, May 27
Midland-Odessa FC vs. Ft. Worth Vaqueros
Tyler FC vs. Dutch Lions FC
Sunday, May 28
Demize NPSL vs. Dallas City FC
Week 3 Game Results:
Wednesday, May 17
Texas United-4   FC Cleburne-2
Four different Texas United players scored, two in each half, to beat FC Cleburne 4-2 in Grand Prairie.  Flavio Guzman and Miguel Velasquez scored in the first and Nenad Markovic and Malik Shaheed netted in the second to seal the victory in the first ever game for both sides.  Gerber Chavez and Kwabena Sapon-Omoah scored for FC Cleburne in the second half to keep the game close.
Saturday, May 20
OKC Energy U23-3   Houston FC-2
Completing a three goal comeback after falling behind 2-0, a stoppage time goal by substitute Eric Leonard led OKC Energy's U23 side to a 3-2 victory over Houston FC in Oklahoma City. Houston built the 2-0 lead off first half goals by Frederico Mattioli in the 26th minute and Thomas Menke in the 32nd.  This was Houston FC's first ever PDL match.
FC Cleburne vs. Texas United
FC Cleburne returned the favor in the second game of the back-to-back with Texas United by winning 2-1 in Cleburne.  A 56th minute goal by Gerber Chavez, his second of the season, was the ultimate game winner.  Goals by Kwabena Sapon-Omoah (his second too) for FC Cleburne and Patricio Botello led to a 1-1 score at the halftime break.  FC Cleburne controlled the action out-shooting Texas United 18-10 on the day.
Week 4 Game Schedule: (Home Team Listed First)
Monday, May 22
Houston FC vs. FC Cleburne
Tuesday, May 23
OKC Energy U23 vs. Texas United
Thursday, May 25
Mississippi Brilla vs. Brazos Valley Cavalry
Friday, May 26
Houston FC vs. Texas United
Saturday, May 27
FC Cleburne vs. OKC Energy U23
Mississippi Brilla vs. Brazos Valley Cavalry
NPSL, PDL logos provided by ChrisCreamer'sSportsLogos.Net